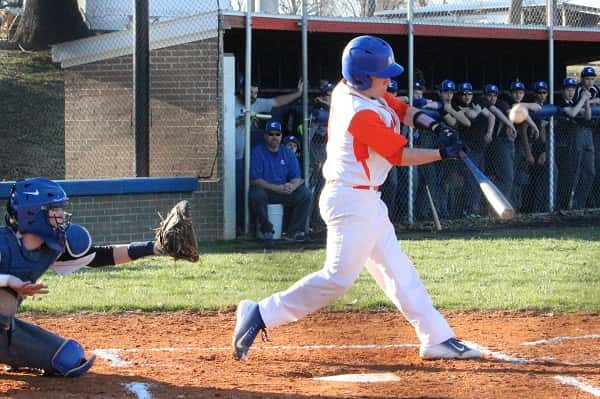 DRAFFENVILLE – The snow has melted, the sun is shining, and it's time to play ball! The Marshals kicked off their season at home Monday against Crittenden County winning 23-0 in five innings of play.
Crittenden County had one hit and left one on base in the top of the first inning, then the Marshals wasted no time getting to work putting up four runs that began with a good bunt by Mason Wooten that loaded the bases, followed by a hit from Blake Johnson who was safe at first, bringing in lead-off batter Chase Bright for a 1-0 lead. Cody Clark hit a single to left field that scored Weston Duke, running for Chandler Rogers, for a 2-0 Marshall lead.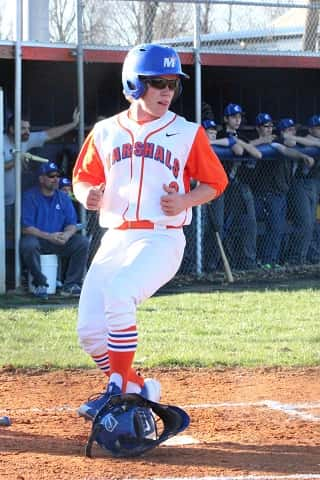 Hunter Jaco walked which scored Wooten followed by a ground out by Dalton Riley bringing in Johnson to score the Marshals fourth run of the inning on two hits and one error.
The Marshals added two more runs in the second inning on a double by Wooten that scored Bright who walked to get on base and a fly ball out by Johnson that brought home Wooten for a 6-0 lead.
The game was blown open in the third inning when the Marshals put 10 runs on the board to lead 16-0 then added seven more in the fifth for the 23-0 win on 14 hits and 2 errors.
Wooten led at the plate going 3 for 4 with a double and 3 RBI's, Rogers was 2 for 4 with 4 RBIs along with Dalton Riley who was 2 for 3 with a double and 2 RBI's.
Following the Varsity win, the JV Marshals beat Crittenden County 8-0.
CLICK HERE to print the Marshals 2015 schedule.
| | | | | | | | | |
| --- | --- | --- | --- | --- | --- | --- | --- | --- |
| |  1   |  2   |  3   |  4   |  5   |  R   |  H   |  E   |
| Crittenden  |  0 |  0 |  0 |  0 |  0 |  0 |  3 |  9 |
| Marshall  |  4 |  2 | 10 |  7 |  – | 23 | 14 |  2 |
HITTING
Crittenden: Tolley, Robinson, Cosby (1 hit)
Marshall: Wooten 3-4 (2B, 3 RBIs), Riley 2-3 (2B, 2 RBIs), Rogers 2-4 (4 RBIs), Blossom 2-2 (RBI), Duke 2-2,  Clark 1-2 (2 RBIs), Beal 1-3 (RBI), G. Johnson 1-1 (RBI), B. Johnson (3 RBIs), Bright (RBI), Jaco (RBI), Greenfield (RBI), Forsythe (RBI), Lang (RBI)
PITCHING
Crittenden: Driver- 2 inn (3 hits, 6 runs), Castiller- .2 inn (6 hits, 10 runs), Myers 1.1 inn (5 hits, 7 runs)
Marshall: Jaco- 3 inn (2 hits, 0 runs), Bright- 1 inn (1 hit, 0 runs), Greenfield- 1 inn (0 hits, 0 runs)