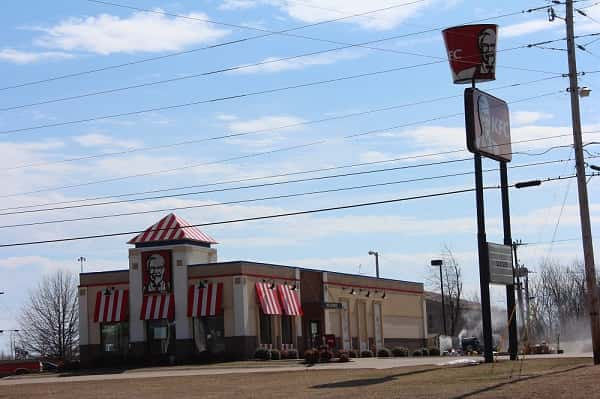 CALVERT CITY – Calvert City's Kentucky Fried Chicken closed its doors this week after receiving a buyout offer "we couldn't refuse," reports Randal Crowell, Human Resources Director for Jack Marshall Foods.
Employees of the restaurant food chain were notified Wednesday night that the business would be closing effective immediately. Employee Yvonne Turner said the group had traveled to the Mayfield KFC location for training, where afterward, they received the news.
"I wish they would have given us more notice," Turner said of the sudden move. Turner has only been employed since January, but says she and others had been working to try to turn the business around having dealt with numerous staffing issues including turnover.
"We knew that some customers had been frustrated about things such as our being short-handed or having to wait for their food, but we were working to fix those problems," Turner said, who also identifies herself as the group's "spokesperson" of sorts. Now, she and nearly a dozen other employees will be working to fix their own issues, including whether or not they will consider possible relocation to the Mayfield store.
"They told us this was a whirlwind for everyone," she said of what KFC management told employees when handing down the news, "but someone had to know this was happening and I wish they would have given us more time – more options to decide what we wanted to do."
According to Crowell, the Jack Marshall Foods Corporation, which owns more than two dozen KFC restaurants, had been using funds from other profit-earning locations for more than a year as means to try to keep the Calvert City location viable.
"It's not a good situation for anyone," Crowell said. "We had to make a tough decision but our employees mean a lot to us and that is why we have worked so long to try to keep the store open." Crowell said they even transferred a 30-year employee to the store to oversee operations in an effort to try to turn things around, but it was to no avail.
Turner says she understands the numerous issues the company was facing adding that in addition to the fire that destroyed a large portion of the interior several years ago, this year's winter storms caused pipes to rupture on two separate occasions warranting closure to allow time for repair.
"I know they had been in the red for a while but we were loyal employees and we were trying to turn things around," Turner said. "One of my co-workers even recently left her full-time job to come to this location as the general manager. We were all putting in a lot of hours to try to cover shifts even though we were short-handed just to try to turn things around. I just wish they would have told us what was happening."
Crowell admits that while the move was sudden, he says "it was beyond our control. We had a major franchise who wanted to complete the purchase effectively immediately." Crowell said he was not at liberty to disclose the buyer, however, Turner reports one of the owners of numerous Hardees franchises is the buyer.
"All I can say is that I think the community will be very receptive to the new major franchise that comes in," Crowell said. "Although we would have liked to have kept this location open, all employees have been offered a position in our Mayfield store. We understand that each employee has a family to support and we want to be as accommodating as possible," he said.
He added that the new incoming franchise will also create several new jobs for the community creating other options as well for dislocated workers. "We understand that when we leave a community, that has an impact, but we did not just leave – we waited until we had a buyer and ensured that all employees had jobs available. That's about the best we could do in this type of situation."
At this time, we are seeking official confirmation as to which restaurant is planned for the new location. Following notification that the store would be closing, Turner did confirm that she and several other employees were given the opportunity to help clear out the restaurant for the past several days as much of the equipment was loaded onto a U-Haul truck and prepared for moving.
As of this weekend, Turner reports she has obtained a new full-time job and has no regrets about speaking out the incident. "I know I did the right thing and just thought the community needed to know what happened."