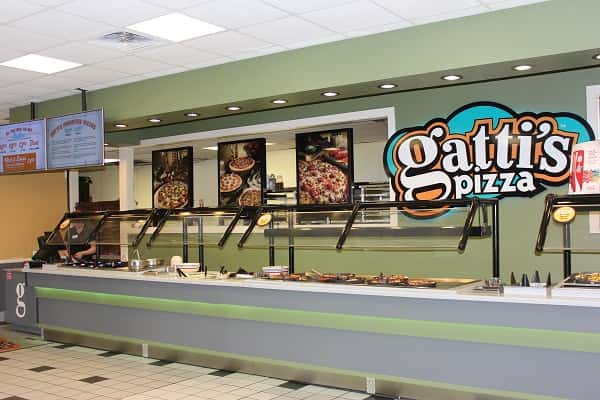 DRAFFENVILLE – After several hundred thousand dollars in cost and months upon months of remodeling, the all new and improved Gattis restaurant in Draffenville is set to open full-time for the spring season on March 27th.
A walk through with new owner and operator Tim Lambert showcases fresh paint and flooring in every room of the building and an updated makeover for the restaurant's layout.
In taking on the challenge of rebuilding the business, Lambert says his primary goal has been to place a strong emphasis on making sure the restaurant is neat and clean, that staff is friendly and the food is hot and fresh.
And – Lambert's brutally honest about the problems that plagued the business in the past and says he hopes the community will be willing to come in and see the changes that have been made.
From the bright neon fluorescent lights illuminating the buffet and wall hangings to digitized menus hanging above, the re-located prize redemption center and an entirely revamped game room in the back, virtually every corner of the building is brand new – and there is still more change to come.
New televisions are going in the front two dining rooms and an Italian theme is in the works complete with themed table coverings and wall adornments.
Redecorated party rooms now have two added features – game room monitors that allow parents to keep a watchful eye on their children remotely and a wall-mounted karaoke system sure to entertain the masses.
No more tickets, no more tokens – the updated game room features payment by Gattis cards that are swiped each time, with funds electronically transferred and tickets added automatically.
A new dance floor – complete with disco ball, and free gaming system in the back dining room will help keep young ones entertained for hours, with the activities provided free of charge.
It's an added service Lambert says he hopes will make his restaurant more inviting for families.
The new dining room features a large photo box where a Marshall County 'Athlete of the Month' will be displayed and rebate nights will soon be coming back to help support non-profit organizations throughout the community.
And for the front lobby? Lambert has additional seating planned and entertainment options including the installation of a punching bag that will likely be used for contests including discounts and prizes.
It's all a part of Lambert's vision to offer the best dining experience possible in a fun and family-friendly atmosphere.
While Lambert's visions for the restaurant are all new, his involvement with the business is not. Lambert was actually one of four business investors who used to remotely manage the property. "I went from investing 25 percent in the business to investing 100 percent," Lambert says of his resolve to make the business a success once again.
"In many ways I guess you could say it was set up for failure, none of us were on-site managers." But today, Lambert is no longer simply an "investor," he is playing a very active role in overseeing the restaurant and has brought on consultants including Larry Whitt and Tucker Lovett to help bring all of the pieces of the puzzle together.
He estimates there has already been a 50 percent turnover in staff and says that number will statistically rise higher when extended spring hours go into effect.
"I believe that our community needs this type of restaurant, and my ownership now allows me the latitude to come in and make the needed changes to help make this a success," Lambert said.
Currently, Lambert is planning to be open six days a week, possibly seven and is looking to hold a grand opening within the coming weeks, He adds that he is looking forward to once again playing a very active role in the community.
Today, Lambert took the opportunity to begin that effort, donating lunch for the entire county road department in appreciation for their efforts during the recent winter weather.
"We really appreciated them thinking of us," said Wendy Greer, Administrative Assistant for the department, adding the employees were thankful for their "kindness and generosity."
It's one small step in what will eventually be many, as Lambert sets his sights on once again becoming a dining destination of choice for locals.
Weather permitting, outdoor remodel efforts are still underway with finishing touches being completed and planned landscaping.
From there, the transformation will be complete – at least for now. Lambert certainly makes it clear that he has big plans for the future of this small business.
For more information on specials, events and hours of operation, see the Draffenville Gattis Facebook page at https://www.facebook.com/gattis.draffenville or call 270-527-2727. Gattis is located at 292 US Highway 68 East in Draffenville.