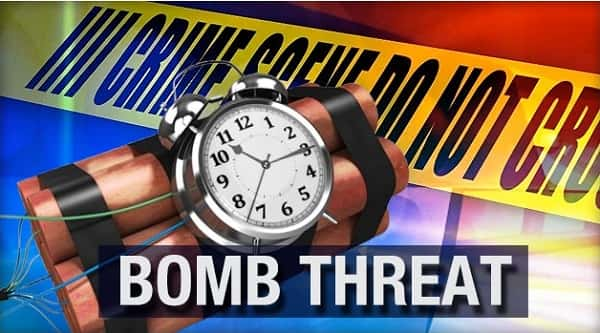 DRAFFENVILLE – A letter discovered in the bathroom at Marshall County High School triggered an all-out emergency response this morning after a custodian discovered the bomb threat and notified authorities.
Four law enforcement agencies including the Marshall County Sheriff's Office, Benton and Calvert Police Departments and Kentucky State Police responded to the campus around 7:30 a.m. Students who were already on school grounds were bused to other campuses, with parents of students who were in route notified to wait for the 'all clear' by way of an alert call and Email from school officials.
Marshall County Sheriff Kevin Byars reports nearly a dozen officers arrived on scene conducting an extensive search of the premises, going room to room where they checked "every nook, cranny and crevice of the campus." Following their search, Sheriff Byars said he requested that KSP bring in their K-9 specially trained in bomb detection. "Among other things, we utilized the K-9 to sweep the lockers, a job that would have taken us far longer to complete," Byars said.
After the all-clear was given, students were bussed back to campus and car riders were notified it was safe to arrive. The school is operating on a two-hour delay.
As to the disruption this causes to the school system and the community in general, Byars said – "I don't think whoever is doing this really realizes what they have gotten themselves into."
Sheriff Byars reports that someone who is found guilty of making a bomb threat can be charged with use of or attempted use of a weapon of mass destruction, a Class D felony punishable by one to five years.
Additionally, a person found guilty of such a crime could also be forced to pay restitution. While not willing to settle on a concrete number, Byars said the financial impact of today's bomb threat could easily surpass tens of thousands of dollars in cost.
"This not only delayed one school, it delayed several and caused a lot of parents – even bus drivers who have second jobs, to be late for work today," he said. "Not to mention the amount of resources taken by the volume of responders needed to effectively clear the school in this full-alert response."
Sheriff Byars said his office is actively investigating the incident and intend to find out who is responsible. "I have detectives out at this time, we have fingerprinted the letter and are already compiling lists of folks who may be of interest. We intend to we take this very seriously, this is happening all too often."
Anyone with information can contact the Marshall County Sheriff's Office at 270-527-3112 or call 270-527-COPS and remain anonymous. A reward of up to $1,000 could be payable for information leading to the arrest/prosecution of a suspect in this case.
Sheriff Byars would like to thank the Benton Police Department, Calvert City Police, Kentucky State Police, Marshall County Emergency Management, and Marshall County School System for their quick response and cooperation.