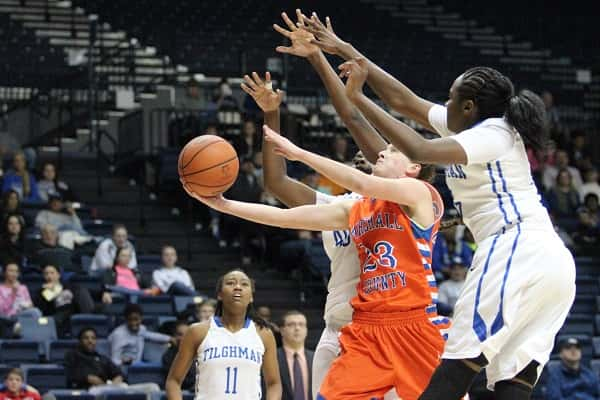 MURRAY – An amazing three-year run for the Marshall County Lady Marshals came to an end Monday night with a 59-39 defeat at the hands of Paducah Tilghman in the opening game of the 1st Region Tournament. The last three seasons, the Lady Marshals have won two 4th District Championships, three 1st Region Championships, a trip to the Sweet 16 and two appearances in the Elite 8 of the KHSAA State Tournament.
"I couldn't be more proud of a group of kids", Head Coach Joseph Simmons said in post-game comments to WCBL's Jeremy Rose. "They kept competing and kept fighting to the very end. I'm just sad to see it end, especially for our four seniors. They're like a part of your family."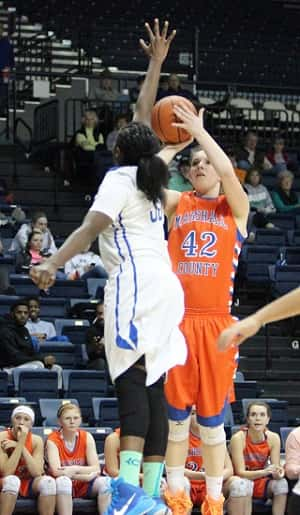 Both teams struggled to get going in the first quarter, both turning the ball over several times before a foul on Briley English in the process of shooting a 3-pointer sent her to the free throw line, sinking all three to give the Lady Marshals a 3-0 lead at 4:42 in the quarter.
A basket by Hannah Langhi put them up 5-0 before Tilghman got on the board with a basket by Karlee Humphrey. Langhi scored again for a 7-2 Lady Marshal lead with Tilghman tying the game and taking their first lead behind baskets from Alex Kohler and a three from Mariah Donelson. Joya Smith scored again for the Lady Tornados for a 9-7 lead at the end of the first quarter.
Humphrey scored seven of Tilghman's 14 second quarter points helping to extend their lead to 23-15 at halftime. Lady Marshal scoring in the second quarter came from English with six points from two 3-pointers and Nikki Fehrenbacher with a field goal.
Michaela Manley, who went scoreless in the first half, began the second half with two free throws, the first of five from the free throw line for her in the third quarter, along with a field goal for seven of the Lady Marshals 11 third quarter points, cutting Tilghman's lead to six at 32-26 at the end of the third quarter.
The Lady Marshals kept Tilghman within reach early in the fourth before Tilghman exploded with 27 fourth quarter points, many coming from the free throw line with the Lady Marshals forced to foul in the final couple of minutes.
Manley led the Lady Marshals with 14 points with 10 added by Langhi along with 10 rebounds. Humphrey led Tilghman with 25 points.
Tilghman will play Carlisle County in Friday's semi finals after the Lady Comets defeated Ballard Memorial 40-36.
Marshall fans were out in force at the CFSB Center and Simmons wanted to thank them for the support.
"I want the fans to know how much the coaching staff and players appreciate the support", Simmons said. "They are behind us, win or lose, because that's what loyal fans do and that's what makes Marshall County first class."
SCORING
Marshall: Manley 14, Langhi 10, English 9, Greer 4, Fehrenbacher 2
Tilghman: Humphrey 25, Kohler 15, Donelson 6, Joya Smith 6, Jalisa Smith 5, Shaw 2
Marshall: Field Goals 13/47, 3-pointers 3/16, Free Throws 10/14, Rebounds 28, Fouls 16, Assists 3, Turnovers 17, Steals 8
Tilghman: Field Goals 21/50, 3-pointers 2/9, Free Throws 15/23, Rebounds 41, Fouls 11, Assists 8, Turnovers 15, Steals 13
| | | | | | |
| --- | --- | --- | --- | --- | --- |
| |  1st  |  2nd  |  3rd  |  4th  |  Final  |
| Marshall  |    7 |    8 |   11 |   13 |   39 |
| Tilghman  |    9 |   14 |    9 |   27 |   59 |