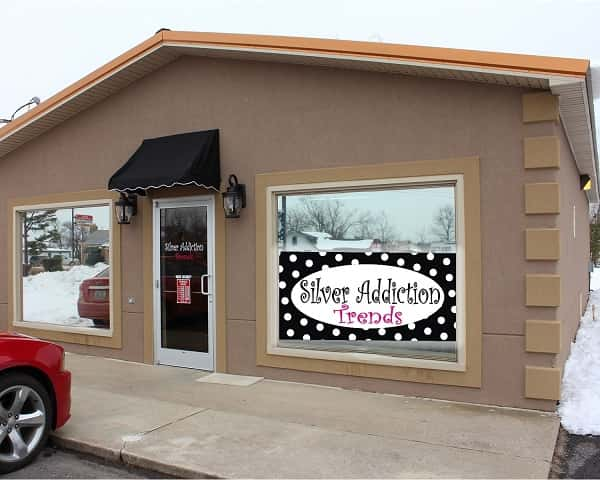 DRAFFENVILLE – [A portion of this article was written by contributing teen author Molly Parker Robinson]

Silver Addiction Trends is a little boutique that holds big meaning for one local owner. In the past several years, there has been an obvious shift in interest from retail to boutique shopping, as savings-savvy customers seek out the best bang for their buck – and unique products for that one of a kind style-seeker.
That trend has certainly been proven true in Marshall County with several boutiques, including Silver Addiction Trends, opening stores. Why the sudden rise in small-town shops? Buying from a big chain retailer often means big mark-ups in the price of the product with merchandise changing hands numerous times. For small boutiques, owners buy directly from the manufacturer ensuring lower prices and higher quality, specialty designs.
That's a concept Keena Draffen Routen knows well, having grown up a fixture in her family's successful flooring business, Draffen's.
While many boutique start-ups have been part of a growing trend in recent years, Routen says she first shared the idea with a special someone 25 years ago.
The year was 1990. Routen and her sister Shannon Draffen were making big plans. They would open a small shop filled with the latest fashions – from clothing and shoes to accessories, jewelry, gifts and more. They had a location picked out and big dreams on the horizon.
But all of those dreams would come crashing down after Shannon was killed in a tragic car accident. She was just 19 years old.
"After that happened, I said I would never go forward and open the shop without Shannon," Routen recalls who was 27 at the time of her sister's passing.
The loss of a young life rocked the community and took its toll on the family. Routen went on working in the family business and put the dream of owning a boutique out of her mind. But in 2013, an opportunity presented itself that she says 'just felt right.'
Best friend Pam Lane had opened Silver Addiction Trends in Draffenville between the Subway and Dominos restaurants. After being open a few years, Lane decided to sell. Routen had been involved, going to market with Lane and by this time, was familiar with business operations having worked in the store. Seeing the ability to fulfill that dream from long ago, Routen made the decision to jump in and purchase the business.
After being open successfully for some time, yet another opportunity presented itself last year when the Bahama Breeze Tanning Salon closed and Lakewood's Tan On opened in the office space next door leaving a prime location open on US Highway 641 North.
Having moved in, business is thriving and Routen's shared dream has finally come true. The boutique is filled with the same items she and Shannon once dreamed of – novelty and hand-made items, along with fun and trendy clothing and accessories.
A walk in the front door and you see a variety of colorful prints – the latest styles and fashion trends, all under one roof.
From purses and shoes to jewelry and more, Silver Addiction Trends offers fashion leggings and an array of tunics and dresses in a rainbow of colors and prints.
With spring right around the corner, winter merchandise is moving fast and the back room Routen describes as currently 'overflowing' with fun fashions just waiting for a hint of warmer weather.
Of what makes her the happiest, Routen says she loves being a part of the local business community. "I just hope people know how much we appreciate our customers." Routen adds that she loves seeing fashions from her store on display in public. "On Sundays at church, I often see several people wearing clothing from the store. That makes you feel so good," she says of her loyal customers.
To see what all Silver Addiction Trends has to offer, be sure to stop by the boutique located at 2698 US HWY 641 North in Draffenville where staff including Ashley Nimmo, Angie Smith, Keena Routen or Pam Lane will be on hand to make your shopping experience worthwhile.
Check out the latest additions to Silver Addiction Trends on their Facebook Page at
https://www.facebook.com/pages/Silver-Addiction-Trends/342579537820?ref=br_tf or call 270-205-7873.