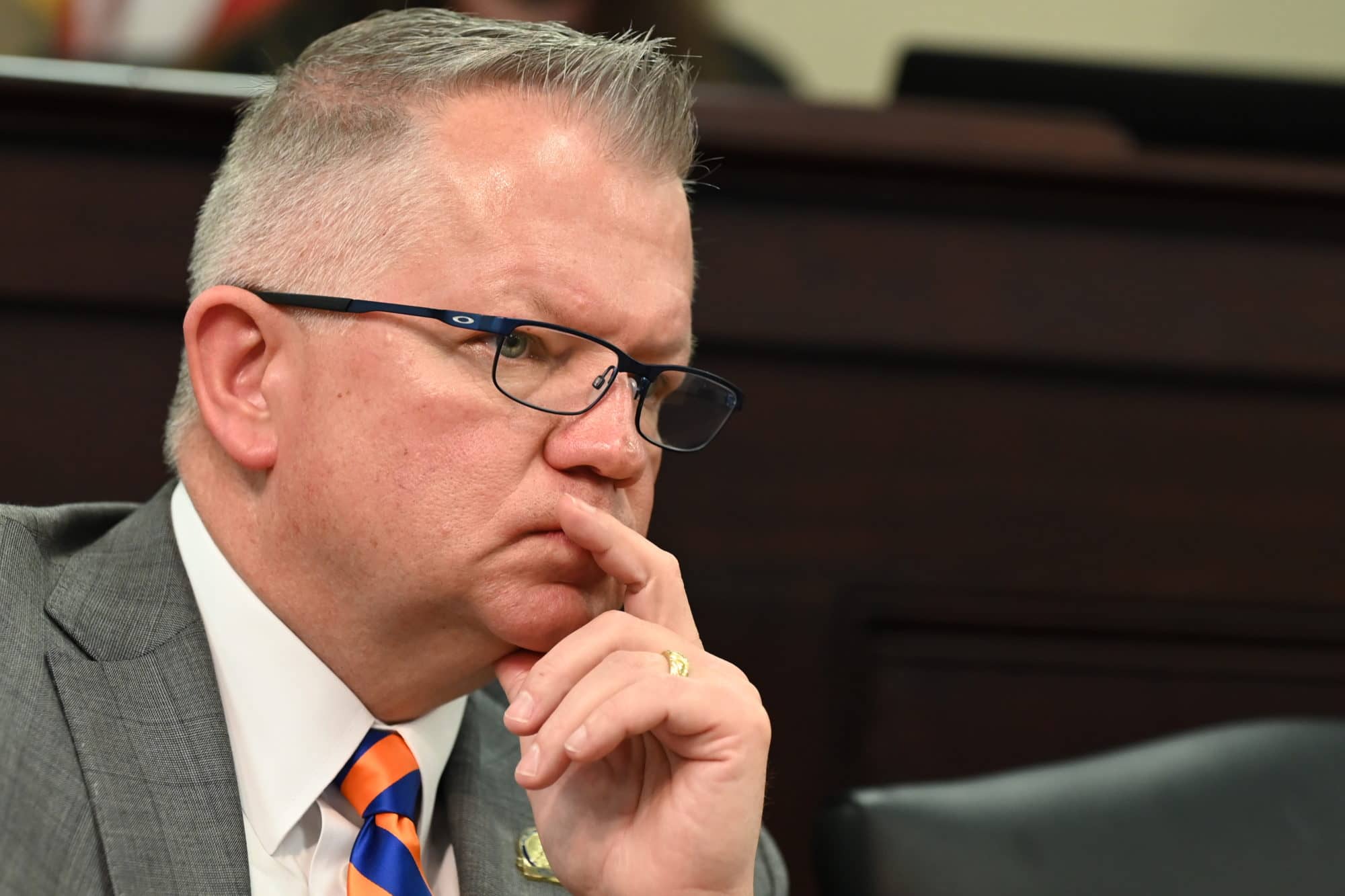 Week 5 of the 2023 Legislative Session
During the General Assembly's fifth week of the 30-day legislative session, March came in like a lion, with over 30 bills clearing the Senate chamber. However, the legislative forecast is not calling for March to go out like a lamb, as plenty of work remains in Frankfort before the final day of session on March 30.
First, I want to let you know the Senate approved the nuclear energy resolution I detailed in previous legislative updates. It is now with the House for them to consider, and I hope they will pass Senate Joint Resolution 79 and put Kentucky on the course to being a leader in nuclear energy production. The potential is immense.
Additionally, I want to inform you of the latest on the Department of Juvenile Justice (DJJ) reform efforts. I presented Senate Bill 162 to the Senate Appropriations and Revenue Committee on Wednesday. The bill has changed quite a bit from its original form and is now much more comprehensive. What the bill would do is as follows:
·         Invests over $55 million in the next two years to support comprehensive reforms within the system.
·         Transitions DJJ back to a regional model while continuing to segregate males and females, and violent and non-violent offenders.
·         Reorganizes DJJ, including:
o   Creating a Division of Compliance and an Office of Detention and requiring the eight DJJ centers to be under one person's supervision who reports directly to the DJJ commissioner. This office will house the Division of Transportation.
o   Moving the Division of Professional Development under the Office of Support Services.
·         Requires the Justice and Public Safety Cabinet to maintain a comprehensive, centralized data tracking system for DJJ.
·         Reforms membership and responsibilities of the Juvenile Justice Advisory Council.
·         Sets requirements for DJJ facilities and requires DJJ to enter into sufficient contracts to ensure the availability of institutional treatment for children with severe emotional disturbance or mental illness as soon as practical.
o   Requires the Kentucky Department of Medicaid to take steps to provide benefits to eligible detained children.
·         Establishes staff retention measures and addresses workforce needs by implementing a Youth Worker-R program to bring retired workers back into facilities and provide employee professional development opportunities.
·         Implements a limited duration program to allow previously resigned staff to return to previous employment classifications with the department's approval.
Senate Bill 162 is the start of a long-term reformation of DJJ and a commitment to finally address the needs of juveniles with serious mental illness. The bill carries an emergency designation, meaning it would take effect immediately upon filing with the Kentucky Secretary of State's Office. I sincerely hope we move the bill out of the Senate in the coming week. Two other measures on this front exist: Senate Bill 158, which provides the funding for a full independent audit of DJJ facilities, and House Bill 3, which is more focused on the Louisville juvenile detention center.
The following bills gained the Senate's approval and can now be considered by the state House of Representatives:
Senate Bill 4 strengthens electric grid reliability in the commonwealth and ensures Kentucky residents are not faced with the dangerous and often deadly consequences of power outages. If enacted, it would prohibit the Kentucky Public Service Commission (PSC) from retiring an electric coal-fired generator unless the utility can demonstrate that taking the fossil fueled electric generator offline will:
·         Not harm the reliability or the resilience of the electric grid;
·         Not negatively impact the affordability of customers' electricity utility rates; and ensure safety.
The bill will require PSC to submit an annual report by December 1 to the Legislative Research Commission on retiring electric generating units. Since the measure carries an emergency designation, it would go into effect immediately upon filing with the Kentucky Secretary of State's Office.
Senate Bill 29 establishes eligibility criteria for Medicaid managed care organizations (MCOs) and limits the number of MCOs contracted by the Kentucky Department for Medicaid Services to no more than three.
Senate Bill 37 modernizes the expertise available to the Kentucky Board of Pharmacy by establishing a broad range of knowledge in pharmacy practice within the board's advisory council. It also specifies the advisory council's membership and responsibilities to the Board of Pharmacy.
Senate Bill 43 is a measure to ensure we are considering the holistic good of loved ones in residential facilities. During COVID-19, families were closed off from those they loved, and sadly some residents in nursing homes passed away without the comfort of a loved one beside them. The General Assembly corrected this during last year's legislative session. Still, this bill expands exemptions for essential personal care visitors from prohibitions relating to visiting a resident in a community, health facility, mental hospital, or those receiving home or community-based Medicaid waiver services. The bill also exempts essential personal care visitors from visitation prohibitions during infectious disease outbreaks in communities mentioned above, regardless of their communicable disease status. Senate Bill 43 carries an emergency designation, which means it would go into effect immediately upon filing with the Kentucky Secretary of State's Office.
Senate Bill 79 — Kentucky has one of the nation's highest rates of domestic violence. The state's Address Confidentiality Program, which currently serves fewer than 50 people and is operated by the Kentucky Secretary of State's Office, only allows victims of domestic violence to hide their addresses from voter rolls, which are available to the public. This bill strengthens the existing program by allowing protections without a court protective order and hiding their addresses from publicly available government records beyond voter rolls.
Senate Bill 92 establishes protections for business owners by outlining questions and acceptable policies concerning assistance animals. It requires an assistance dog to be licensed, vaccinated, and have tags; prevented from disrupting or fundamentally obstructing an establishment's services or goods; and be leashed—unless a person's disability requires otherwise—and in control of at all times. It also establishes fines for those guilty of misrepresenting a dog as an assistance dog, regardless if the misrepresentation is communicated verbally, in writing, or non-verbally by placing a harness, collar, vest or sign on a dog that falsely indicates it is an assistance dog. Additionally, it allows the Animal Control and Care Fund, a special fund within the Kentucky Treasurer's Office benefiting the Animal Control Advisory Board, to receive the fines. Finally, Senate Bill 92 clarifies the rights, privileges, and exemptions afforded to assistance dogs do not extend to emotional support animals.
Senate Bill 169 would lower costs and expedite capital project completion for Kentucky school districts by authorizing local boards of education to engage in public-private partnerships (P3s). Our cities and counties can already engage in P3s under current law. This bill can help free up the local school district budget and ensure projects are completed timelily so our students and teachers can benefit from those investments.
Other bills passing in week five were Senate Bills 30, 33, 57, 58, 81, 89, 90, 97, 104, 109, 110, 111, 120, 122, 128, 129, 144, 160, 163, 165, 209, 213 and 229. You can find all of these bills and more at legislature.ky.gov.
You can follow bill statuses at legislature.ky.gov and watch live legislative activity at KET.org/legislature. You can also track the status of other legislation by calling 866-840-2835, legislative meeting information at 800-633-9650, or leaving a message for lawmakers at 800-372-7181.
If you have any questions or comments about these issues or any other public policy issue, please call me toll-free at 502-564-8100 or email me at Danny.Carroll@LRC.ky.gov.