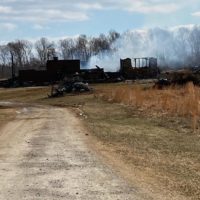 Story by News channel 6
MARSHALL COUNTY, KY – Two people died Thursday evening due to a fire that occurred inside a camper, Marshall County Sheriff Eddie McGuire told Local 6.
According to Sheriff McGuire, the camper caught on fire when the two individuals attempted to thaw frozen pipes using a propane heater.
Sheriff McGuire added the two people were living in the camper after the home had been destroyed by the Dec. 10 tornado.
This is a breaking news story, updates will follow.