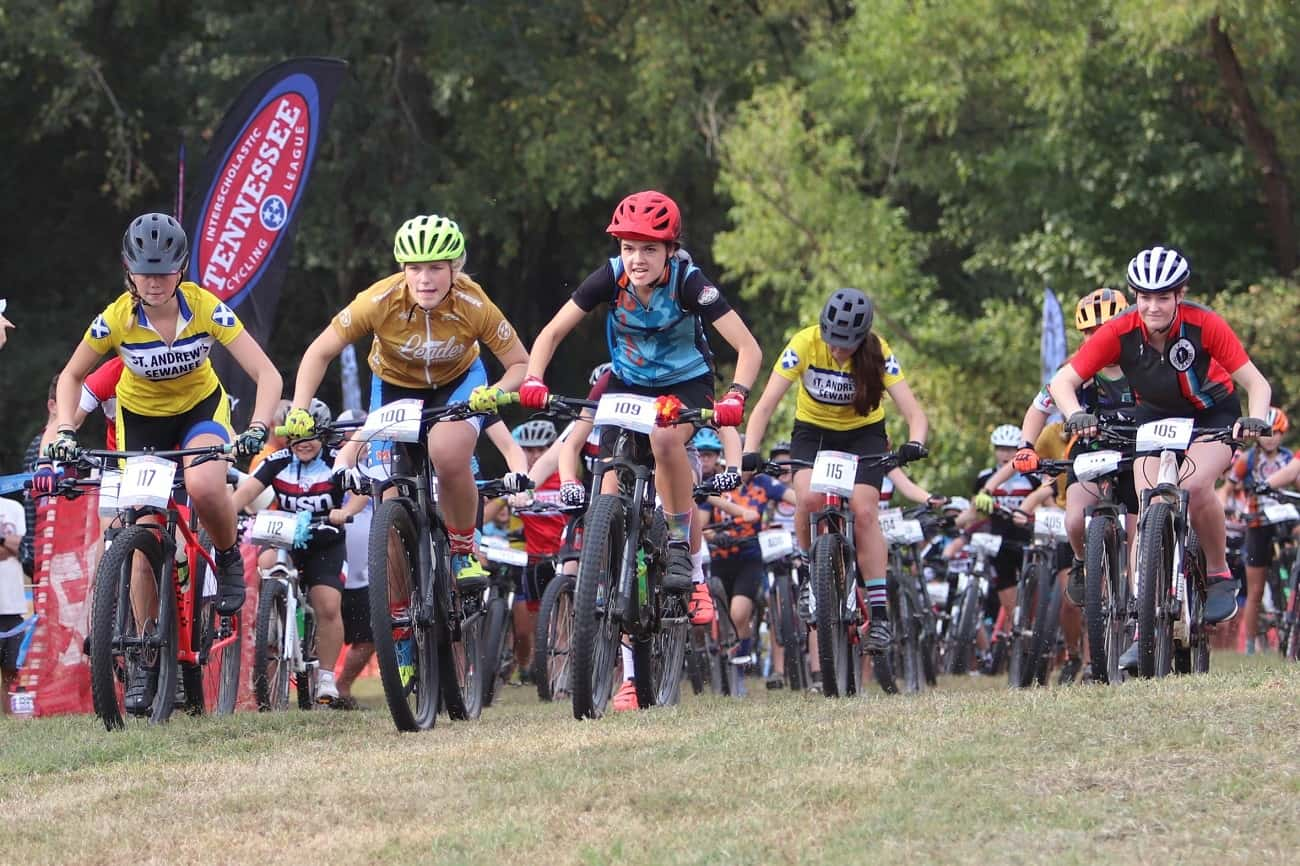 Three races are in the books for the Marshall County High School and Middle School mountain bike teams following Sunday's Race #3 of the Tennessee Interscholastic Cycling League season held at Shelby Farms in Memphis, TN.
The high school team is three for three so far in the 2019 season after winning on Sunday, leading Williamson County Composite in second and Lock 4 Trailblazers Composite in third among a field of 25 teams. The middle school team placed second Sunday, just one point from first place Hamilton and Bradley County Composite and are second overall after the first three races in a 22 team field.
Fourteen Marshall County team members raced their way onto the podium Sunday that included five first place finishes. Those first place finishes came from Presleigh Jennings (Varsity), Olivia Myhand  (JV), Chase Binkley (Sophomore), Allie Burkeen (Freshman) and Memphis Ford (8th Grade). Four second podium finishes came from Alyssa McClain (Varsity), Jaxon Story (Varsity), Claire Austin (8th Grade) and Emma Roberts (6th Grade). Two third place finishes came from Aniston Barnes (8th Grade) and Evie Powell (7th Grade). Jace Story (Freshman) placed fourth and two fifth place podium spots went to Caleb Pahl (Freshman) and Chase Yarbrough (8th Grade).
After three races, four Marshall County riders are leading their divisions as overall Points Leaders  – Presleigh Jennings (Varsity), Olivia Myhand (JV), Chase Binkley (Sophomore) and Claire Austin (8th Grade).
Race #4 of the five race series takes place October 20th at Panther Creek State Park in Morristown, TN. Full Race #3  Marshall County results and podium results below photos.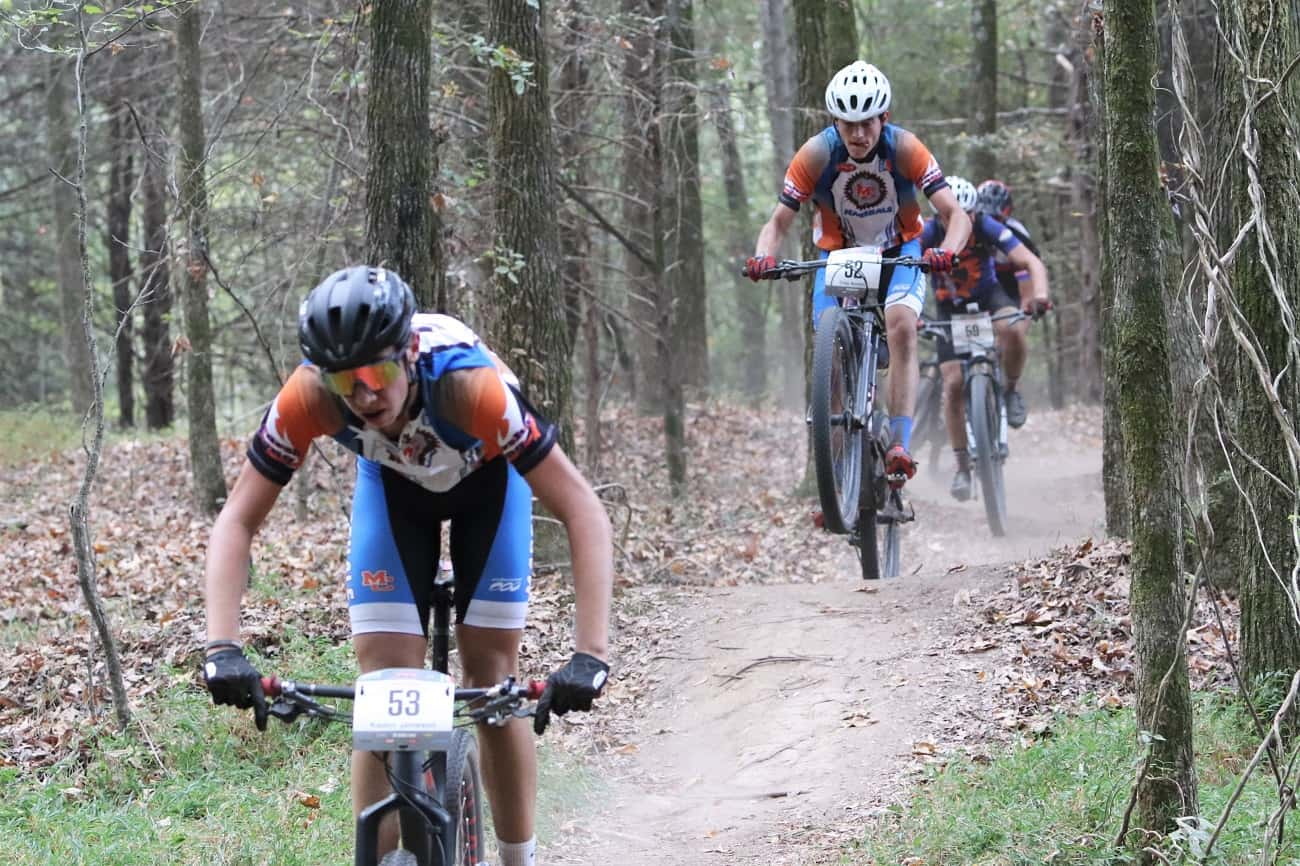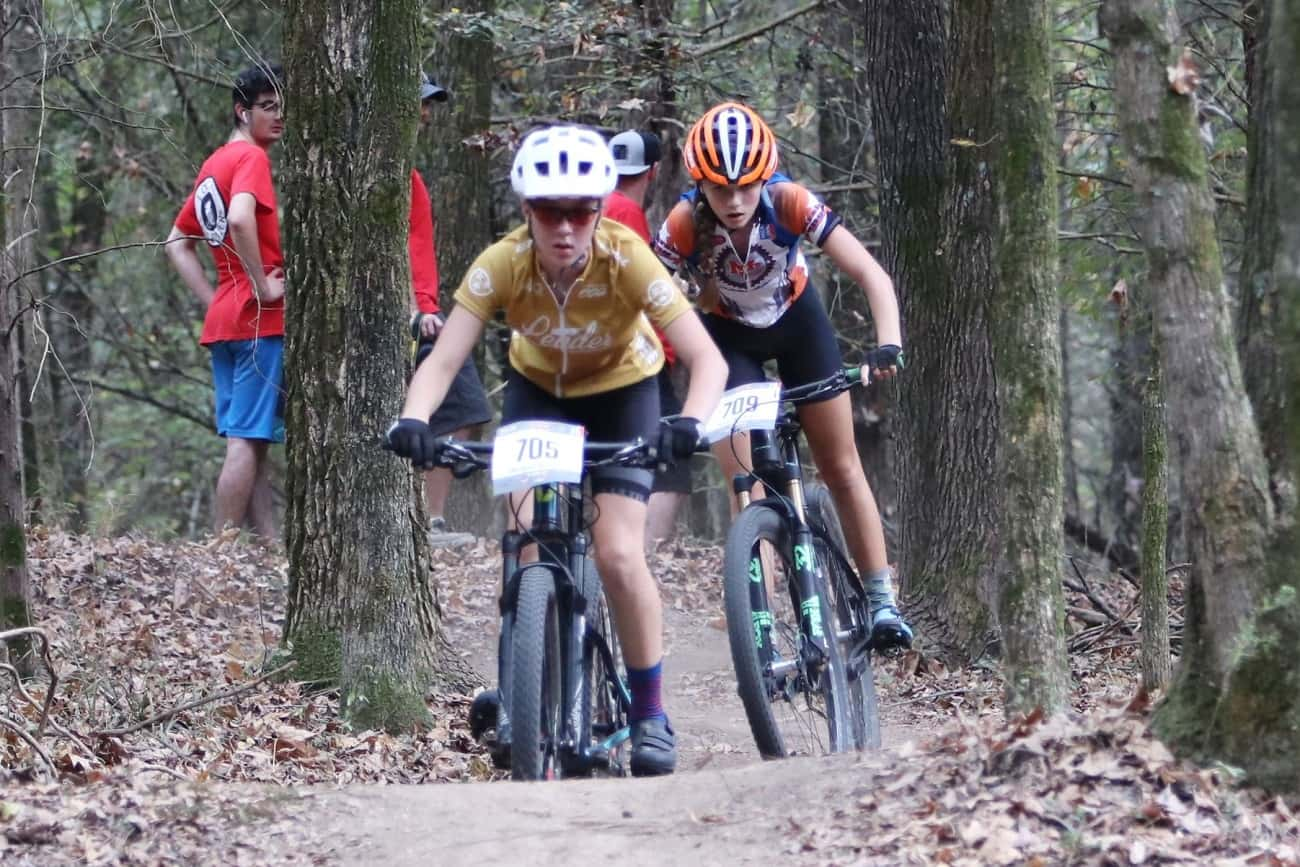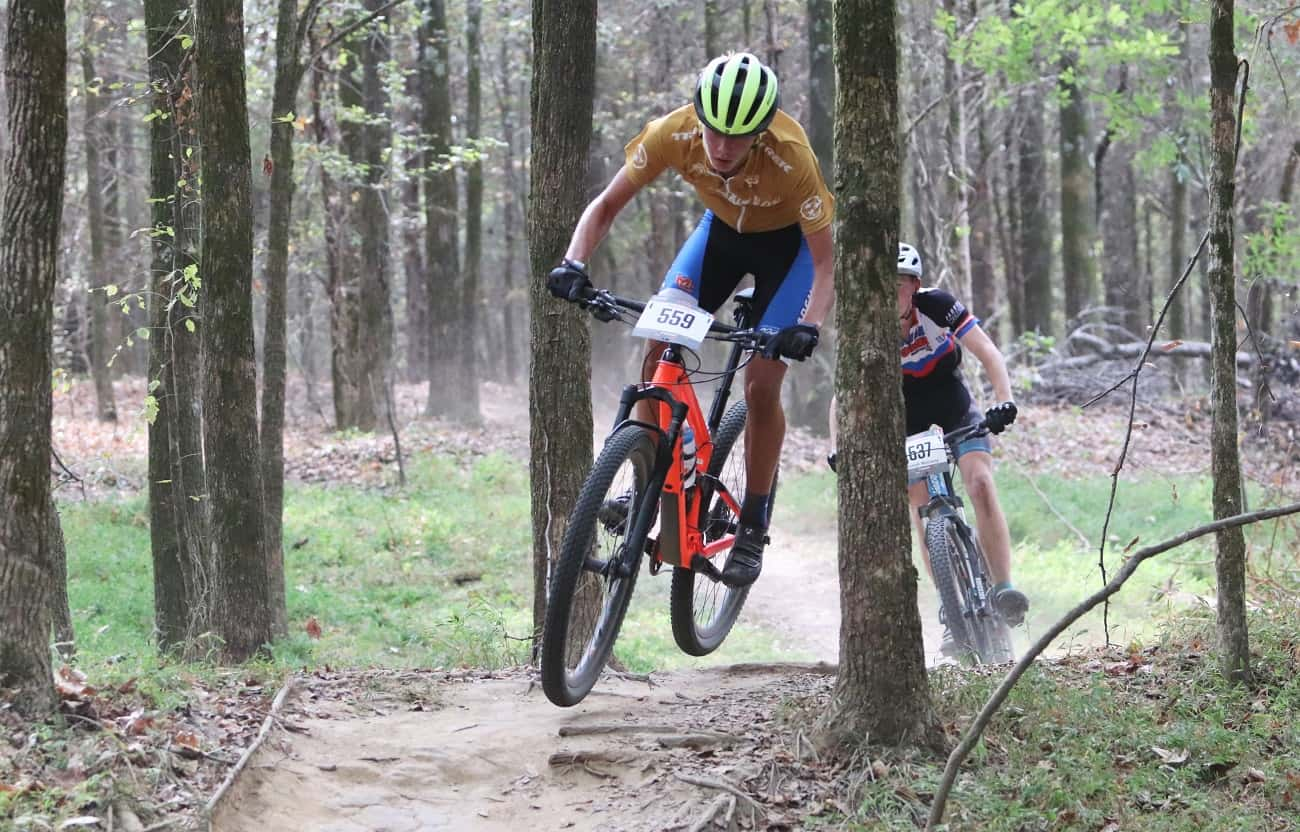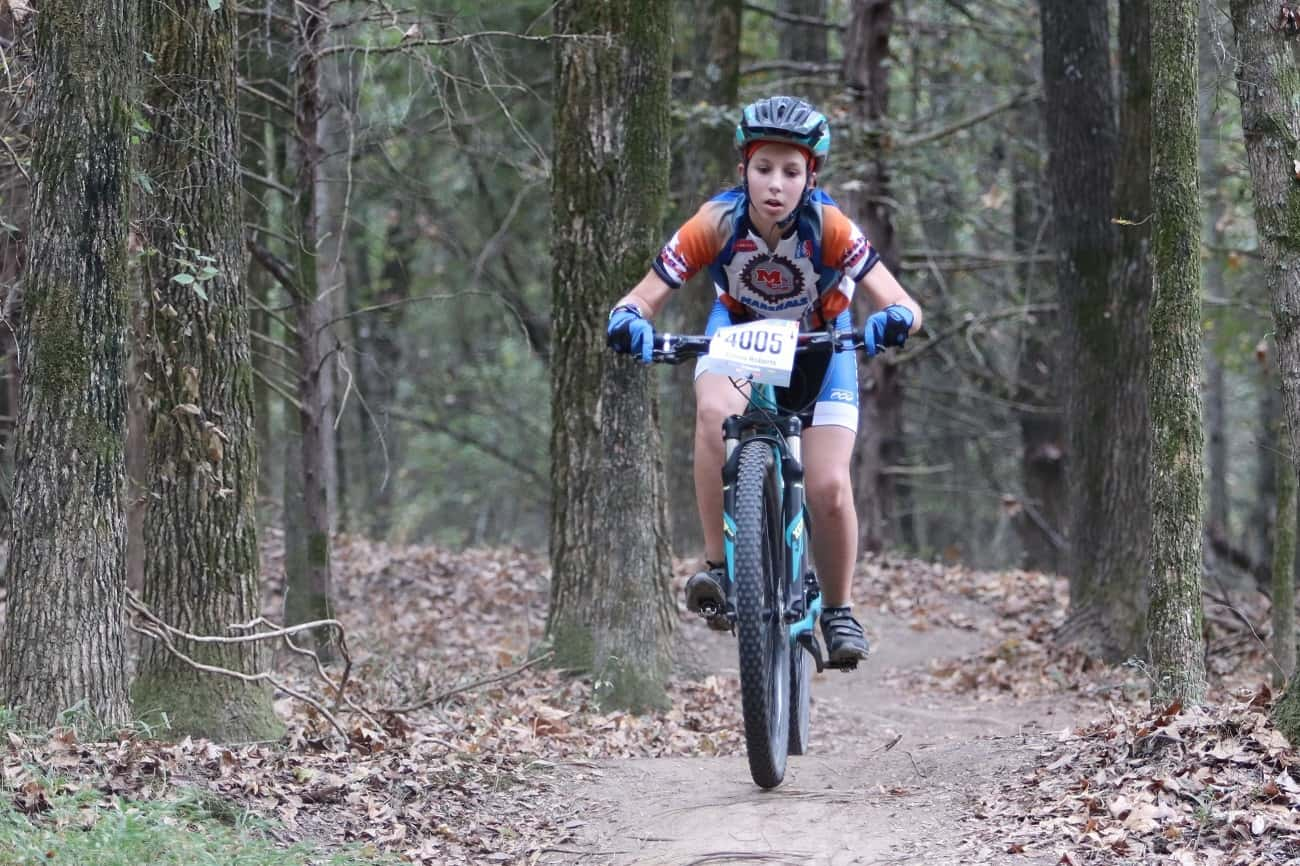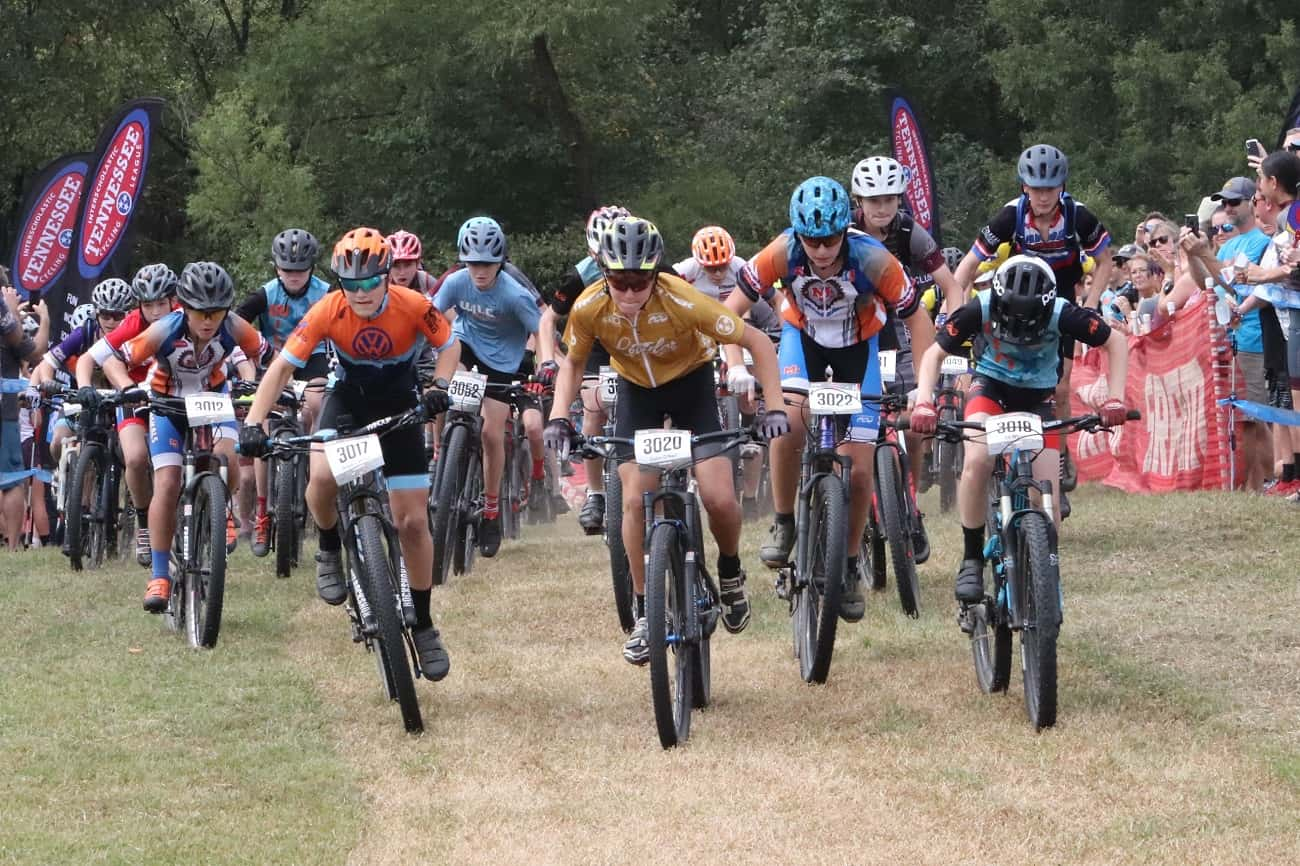 Marshall County Race #3 results:
| | |
| --- | --- |
| GIRLS | BOYS |
| Presleigh Jennings, 1st-Varsity | Jaxon Story, 2nd-Varsity |
| Alyssa McClain, 2nd-Varsity | Clay Austin, 5th-Varsity |
| Olivia Myhand, 1st-JV | Kaden Jameson, 6th Varsity |
| Allie Burkeen, 1st-Freshman | Kaleb Cosby, 9th Varsity |
| Jasper Cosby, 7th-Freshman | Joseph Roberts, 12th JV |
| Claire Austin, 2nd-8th Grade | Carson Denfip, 15th JV |
| Aniston Barnes, 3rd-8th Grade | Chase Binkley, 1st-Sophomore |
| Evie Powell, 3rd-7th Grade | Caleb Pahl, 5th-Sophomore |
| Emma Roberts, 2nd-6th Grade | Trae Harbison, 16th Sophomore |
| | Marshall Gregory, 18th-Sophomore |
| | Gabe Driskill, 41st Sophomore |
| | Jace Story, 4th-Freshman |
| | Wade Driver, 19th-Freshman |
| | Memphis Ford, 1st-8th Grade |
| | Chase Yarbrough, 5th-8th Grade |
| | Ty Elrod, 9th-Sophomore |
| | Canyon McKinney, 22nd-7th Grade |
| | Braxton Lima, 10th-6th Grade |
| | Brady Atkins, 11th-6th Grade |
| | Ian Dillon, 22nd-6th Grade |
Race #3 Podiums/Points Leaders
VARSITY GIRLS
1 Presleigh Jennings-Points Leader (Marshall)
2 Alyssa McClain (Marshall)
3 Perry Sherwood (Christ Presbyterian)
VARSITY BOYS
1 Troy Fields-Points Leader (Lock 4)
2 Jaxon Story (Marshall)
3 Jack Gessler (Williamson County)
JV GIRLS
1 Olivia Myhand-Points Leader (Marshall)
2 Libby Neubauer (St. Andrews-Sewanee)
3 Makenna Reilly (Harpeth Youth)
JV BOYS
1 Max Baudenbacher (Montgomery Bell)
2 Gabe Holcomb-Points Leader (Independent)
3 Asa Holiday (Williamson County)
4 Benjamin Simcoe (Collierville)
5 Gage King (Collierville)
SOPHOMORE GIRLS
1 Ava Cherry-Points Leader (West High School)
2 Maya Reilly (Harpeth Youth)
3 Emma Claud (Lock 4)
SOPHOMORE BOYS
1 Chase Binkley-Points Leader (Marshall)
2 Josiah Matheny (Paducah-McCracken)
3 Brent Smith (Williamson County)
4 Sam Wuller (Franklin High School)
5 Caleb Pahl (Marshall)
FRESHMAN GIRLS
1 Allie Burkeen-Points Leader (Marshall)
2 Abigail Waller-Points Leader (Christ Presbyterian)
3 Kyra Goetsch (Collierville)
FRESHMAN BOYS
1 Will Majure-Points Leader (Hamilton and Bradley)
2 Trace Schoeberl (Columbia Composite)
3 AJ Clements (St. Andrews-Sewanee)
4 Jace Story (Marshall)
5 Stephen Glisson (Paducah-McCracken)
8th GRADE GIRLS
1 Isabella Donnelly (Collierville)
2 Claire Austin-Points Leader (Marshall)
3 Aniston Barnes (Marshall
8th GRADE BOYS
1 Memphis Ford (Marshall)
2 Colin O'Neal-Points Leader (Williamson County)
3 Brady Lawson (Hamilton and Bradley)
4 Zach Lowe (Independent)
5 Chase Yarbrough (Marshall)
7th GRADE GIRLS
1 Brianna Majure-Points Leader (Hamilton and Bradley)
2 Arianna Akins (Paducah-McCracken)
3 Evie Powell (Marshall)
7th GRADE BOYS
1 Reid Farmer-Points Leader (Hamilton and Bradley)
2 Sam McCoy (Williamson County)
3 Brayden Leach (Williamson County)
4 Noah Johnson (Hamilton and Bradley)
5 Bryson Greene (Collierville)
6th GRADE GIRLS
1 Shelbi Field-Points Leader (Independent)
2 Emma Roberts (Marshall)
3 Maxine Richards (Hamilton and Bradley)
6th GRADE BOYS
1 Bryar Bentley (Fayette County)
2 Ryder Ortner (Harpeth Youth)
3 Will Hackney-Points Leader (Christ Presbyterian)
4 Ryan Hendon (Lock 4)
5 Burton Moore (Columbia Composite)