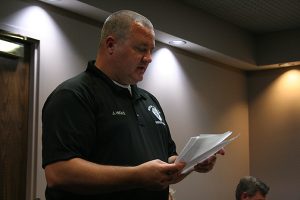 Benton Police Department has a new chief at the helm.
Benton City Council on Tuesday appointed Capt. Jeromy Hicks to serve as the department's new chief in a 4-1 vote during a special-called meeting at Benton City Hall. Councilman Chris Smithmier opposed the measure, Councilwoman Sherra Riley abstained from voting and Councilman Charlie Edmonds reversed his decision from the previous vote, casting a "yes".
Hicks, a 19-year department veteran has served as the city's interim chief since July 26, after the council voted down a resolution naming him to the position, 3-2. Councilman Butch Holland was not present for the July vote, though he did sit on the hiring committee which sought to appoint Hicks, as did councilmen Justin Lamb and Rita Murray.
And that was the rub. Riley, Smithmier and Councilman Charlie Edmonds voiced concern in July on not being part of the vetting process in selecting a new chief. Mayor Rita Dotson – who had the vested authority to bypass a committee and select a candidate herself to submit for council approval – said she believed that conducting interviews with the full council would open those interviews to the press as part of open meetings laws, which she said she felt inappropriate.
Hiring and termination of city employees would fall under executive session exceptions to the law, however. Dotson said she would consider opening the process back up for all council to participate or just making a recommendation to appoint a candidate; she chose the latter.
Tensions amid some council members ran high on the issue going into Tuesday's vote. Dotson opened discussion on the matter by reading aloud a letter she said she received that morning from the Marshall County Republican Party. The letter, dated Aug. 16 and signed by local GOP Chairman Danny Holt, requested Dotson follow the most transparent path to selecting a new chief, which the executive committee felt could best be followed by opening the interview process to all city councilmen.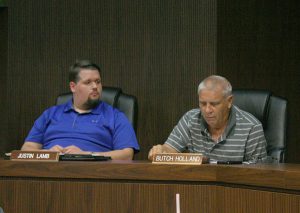 "We believe that the only way to eliminate the controversy that's engulfing the current situation is to open the interview process to all the elected council members," the letter states. "We believe that the input from each city councilmember regarding the person best qualified to fill this role is part of their responsibility. Allowing the elected representatives the right to be involved in this process will not eliminate every complaint, but it will remove the basis of many complaints."
Dotson said while she knew the letter was not intended to "slur" or damage her, she was "totally offended" by the implication that she'd not been transparent in the hiring process, and said it was the first time she could recall a political party attempting to weigh in on the appointment of a non-elected officer.
"I'll help anybody: black, white, yellow, red," Dotson said. "I don't care if they're Republican, if they're Democrat, if they're rich or poor. I don't make any difference … by anybody in this city that has come to me, that needs anything, I'm there for them.
"I am not trying to hide anything," she added. "I think I'm as transparent as I can possibly be. I'm really sorry that the party feels this way."
Holland said the previous administration had also chosen to vet officers through committee and then present nominations to the council for vote, which he felt was appropriate.
"I think this is all uncalled for," Holland said. "And it's certainly not the place of the Republican Party to send a letter to the council, and I am also offended by it. This system was not meant to – all it was was a tool for the current mayor to use, in this case is used for hiring at least four police officers. … It should have worked the same way this time. However, it didn't because – I personally think – we have some people that are trying to push their own agendas instead of the agendas of the city."
Riley reiterated that no one felt Dotson had done anything illegal, but she wished she'd been involved in the interviewing process. Riley said she'd been given access to resumes for the seven candidates interviewed for the position, but it wasn't the same as sitting in on the interview. Riley said she felt like she would be casting a blind vote, with which she wasn't comfortable.
"I would just like to have known more," Riley said. "I just feel like it's so important that we do this, and that all six of us would have an input because we're all elected by citizens. … The things that are going on in Charlottesville (Va.), and the pamphlets that have been handed out on more than one occasion by the KKK here, this is big. It's the biggest decision I would ever be a part of as a city councilperson. So, to me it was just …"
"Fortunately that's the mayor's job, not yours," Holland said.
"Well, Butch, I have to vote," Riley said.
"Yeah you got to vote, but you vote yes or no," Holland said. "But that's her job according to the statutes and everything else to pick this person that we picked."
Riley said she understood that by statute the decision on which candidate to put up for confirmation was at the mayor's discretion, as was appointing a committee to help vet candidates. Riley said she had just wished, knowing that the council could be part of the interview process, that the entire council had been rather than just the three that sat on the committee. Riley said she felt if roles had been reversed those other council members would feel the same.
Smithmier backed her arguments, adding that he felt the lines of communication could have been more open, even if the remaining council member hadn't been directly involved in the process.
"To find out the night before we're going to vote on someone that the other people have already been told they didn't get it – I mean, I understand that part of it too – but for us to be quote 'in a discussion' there has to be something still left unresolved," Smithmier said.
Dotson said she told remaining candidates that the appointment was not official when she notified them they had not been chosen.
Smithmier also took exception to Holland's suggestion that council members were more interested in advancing political agendas.
"I have on purpose turned down – they've asked me to come to meetings at the GOP office, and I won't do it because this is supposed to be a non-partisan party," Smithmier said. "I have no knowledge of that letter, it had no place even being read in here or being presented to you either, for that matter. For the fact of the matter is, I was elected as a concerned citizen. … I got on here to voice my opinions for the people out there who voted me in, and for somebody to sit over there and be so smug and arrogant to say that our opinions don't matter, that's on you mister. Because our opinions are just as valid as yours are."
Holland fired back, saying he had been trying to offer a point of advice as someone with knowledge of law enforcement.
"Arrogance to me – I was trying to draw on my experience as a human being and being a supervisor, and I've done a whole lot of things you haven't done, young man," Holland said. "And you sit there and call me arrogant because I'm trying to give you good advice about something, life advice about something? I don't get it."
Dotson said she would have read the letter if it had been written by the Democratic party, as well. Dotson also said she had received a message prior to the meeting that neither Riley nor Smithmier had a part of writing or delivering the letter.
Riley said she would pray for Hicks and the department each night, and thought that he would likely do a fine job as chief. In the July meeting, Riley said regardless of who was chosen and how her vote was cast, she would support the new chief 100 percent.
Hicks succeeds former Chief Tracy Watwood, who retired July 31 from the department.