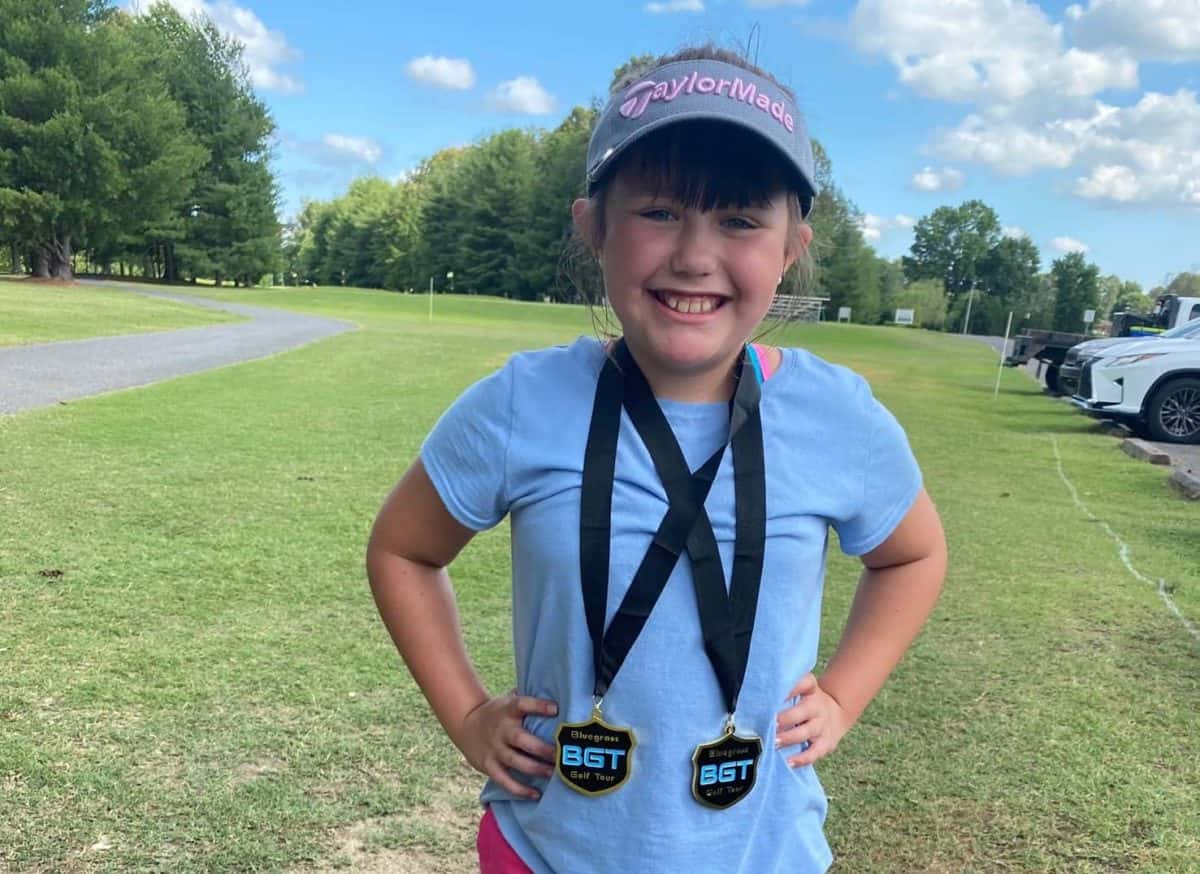 The Bluegrass Golf Tour Junior Series made two stops in Western Kentucky this week. Tuesday's rounds took place at Benton Golf and Country Club and Thursday the tour headed to Paducah's Paxton Park Golf Course.
Thursday was also the second round in those competing in the Western, Ky. Combo Regional #1 that combined two rounds, the first from Calvert City Country Club on June 4 with results from Paxton Park Golf Course on Wednesday.
Medalist results from Benton, Paxton Park and the Combo Regional #1 Marshall County results below.
Benton Golf and Country Club, June 9 (par 72)
Boys 15-18
T1 – Palmer Sims (Paducah) +5 (77)
T1 – Jiles Wyatt (Hopkinsville) +5 (77)
3 – Trey Wall (Benton) +11 (83)
4 – David Morris (Benton) +13 (85)
5 – Preston Futrell (Benton) +15 (87)
Boys 12-14
1 – Aidan Hahn (Paducah) +8 (80)
2 – Ryan Stokes (Calvert City) +11 (83)
T5 – Tate Scillian +22 (94)
Girls 15-18
1 – Hannah Sumner (Hopkinsville) +12 (84)
Girls 14&U
1 – Skylar Waller (Murray) +18 (80)
Boys 11-12 – 9 holes
1 – Ty Mueller (Paducah) +14 (50)
Boys 10&U – 9 holes
1 – Brently Gregory (Paducah) +14 (50)
Girls 12&U – 9 holes
1 Charlee Murphy (Benton) +24 (60)
Paxton Park Golf Course, June 10 (par 71)
Boys 15-18
1 – Garrett Rikel (Paducah) +3 (74)
3 – Trey Wall (Benton) +5 (76)
T7 – Camdyn McLeod (Benton) +11 (82)
T10 – Hayden Powell (Benton) +13 (84)
T22 – Preston Futrell (Benton) +22 (93)
24 – Gunner Hoover (Benton) +33 (104)
Boys 12-14
1 – Luke Wilson (Paducah) +3 (74)
3 – Ryan Stokes (Calvert City) +10 (81)
Girls 15-18
1 – Macey Brown (Owensboro) +3 (74)
Girls 14&U
1 – Skylar Waller (Murray) +13 (84)
3 – Katie Roberts (Calvert City) +17 (88)
Boys 11-12 – 9 holes
1 – Landon Hunt (Hopkinsville) +4 (39)
Boys 10&U – 9 holes
1 – Jacob McDaniels (Princeton) +8 (43)
2 – Gage Norman (Benton) +12 (47)
5 – Brody Ray (Calvert City) +30 (65)
Girls 12&U – 9 holes
1 – Charlee Murphy (Benton) +25 (60)
Combo Regional #1 – Western, Ky. (Calvert City June 4 – Paxton Park June 10) Marshall Co. results
Boys 15-18
1 – Trey Wall (Benton) +6 (73-76=149)
T6 – Camdyn McLeod (Benton) +16 (77-82=159)
10 – Hayden Powell (Benton) +21 (80-84=164)
14 – Preston Futrell (Benton) +32 (82-93=175)
16 – Gunner Hoover (Benton) +43 (82-104=186)
Boys 12-14
2 – Ryan Stokes (Calvert City) +22 (84-81=165)
Girls 14&U
2 – Katie Roberts (Calvert City) +34 (89-88=177)
Boys 10&U – 9 holes
2 – Gage Norman (Benton) +23 (49-45=94)
Girls 12&U – 9 holes
1 – Charlee Murphy (Benton) +54 (65-60=125)