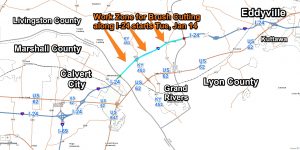 PADUCAH, Ky. (Jan 13, 2020) — The Kentucky Transportation Cabinet plans a daytime work zone lane restriction along Interstate 24 Westbound in Livingston County starting Tuesday, January 14, 2020.
This work zone along I-24 westbound between the 35 and 31 mile marker is to allow brush cutting along the right of way between the Cumberland River Bridge and the Tennessee River Bridge, as well as around the I-24/KY 453 Grand Rivers Exit 31 Interchange.
Westbound motorists on I-24 should be prepared for one lane traffic along about a 1-mile section of I-24 in this area between approximately 7 a.m. and 3:30 p.m., CST, each day for the next several weeks anytime weather allows.  All westbound traffic will move to the left-hand or passing lane.  Motorists should be alert for slowing and merging traffic as they approach this daytime work zone.
Brush cutting along this section of I-24 is to improve the visibility of signage and allow motorists to better see deer and other wildlife attempting to cross I-24.  This maintenance work can sometimes be completed with a shoulder closure.  However, due to the large amount of guardrail along this section of I-24, a lane restriction will be required.
Motorists should use appropriate caution where equipment, flaggers, and maintenance personnel are along the roadway in close proximity to traffic flow.
Timely traffic advisories for the 12 counties of KYTC Highway District 1 are available by going to www.facebook.com/kytcdistrict1. You do not have to be a Facebook member to access this page.
Navigate traffic at goky.ky.gov, at waze.com, or with the WAZE App.