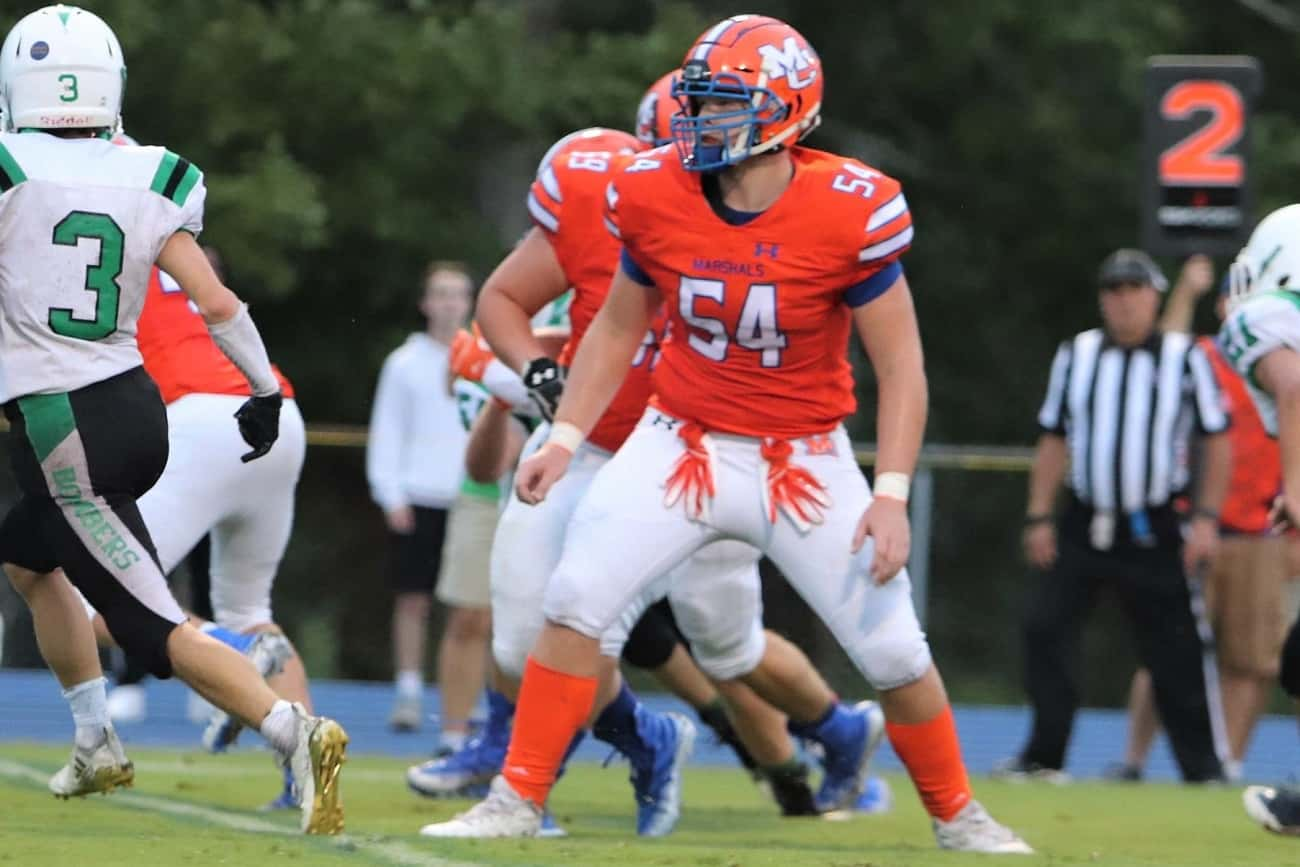 Marshall County evened their record to 2-2 with a 20-14 win over Calloway County last Friday while the Lakers dropped to 0-4. Last year's meeting between the two teams ended in a 34-27 overtime win for the Marshals.
Marshall County scored on their first possession with great field position from Calloway's 32 yard line following the Lakers punt. The touchdown coming on a 19 yard run by Ty Buchmeier, the extra point attempt no good for a 6-0 lead.
Calloway County took a 7-6 lead in the second quarter, scoring from the one yard line on fourth down on a quarterback keeper by Kanyon Franklin. The extra point kick by Ian Clark good on the second attempt following a roughing the kicker penalty on the Marshals.
The Lakers had a couple more opportunities to put points on the board in the second quarter, but missed 22 and 25 yard field goal attempts.
Marshall County took a 14-7 lead in the third quarter following a 74 yard drive that was highlighted by an 11 yard reception by Riley Smith from Quinn Smith, Luke Wyatt runs of 11 and 14 yards, a Buchmeier pick up of 25 yards that led to a seven yard touchdown run up the middle by Wyatt. The two point conversion good when Buchmeier found the end zone.
The Lakers tied the game 14-14, scoring on an eight yard quarterback keeper by Franklin with under a minute remaining in the third quarter and a successful extra point kick by Clark.
The Marshals went up 20-14 in the fourth quarter, a drive highlighted by a 19 yard gain by Wyatt, scoring on a 19 yard run by Buchmeier. The extra point attempt failed.
Calloway County threatened with a drive that made it to the Marshals three yard line, but a goal line stand from the defense kept the Lakers out of the end zone and they turned the ball over on downs. The Marshals successfully ran out the final minutes of the game to pick up their second win of the season.
Marshall County had 278 yard of total offense, most of those on the ground with 230. Calloway County had 248 yards, 166 coming on the ground. The Marshals were led by Wyatt with just under 100 yards rushing on 17 carries and a touchdown and Buchmeier with 92 yards rushing on nine carries and two touchdowns.
Senior linebacker, Dawson Smothers, set a new single game school record with 24 total tackles, breaking the previous record of 21 set in 2015 by Eddie Morris against Trigg County.
District play begins for the Marshals on Friday at home against McCracken County (2-2). The Mustangs beat Mayfield 45-35 Friday, handing the Cardinals their first loss of the season.
| | | | | | |
| --- | --- | --- | --- | --- | --- |
| Marshall | 6 | 0 | 8 | 6 |   20 |
| Calloway | 0 | 7 | 7 | 0 |   14 |
Total Offense: Marshall 278, Calloway 248
Rushing: Marshall 230, Calloway 166
Marshall: Wyatt 17/94 (TD), Buchmeier 9/92 (2 TD), Q. Smith 9/33, Parker 1/11
Calloway: Franklin 15/72 (2 TD), Orange 19/54, Watters 8/36, Schwepker 2/4
Passing: Marshall (Smith) 3/5 48 yds, Calloway (Franklin) 10/17 82 yds
Marshall: R. Smith 2/40, Buchmeier 1/8
Calloway: Ki Franklin 2/39, Fennel 5/32, Schwepker 3/11