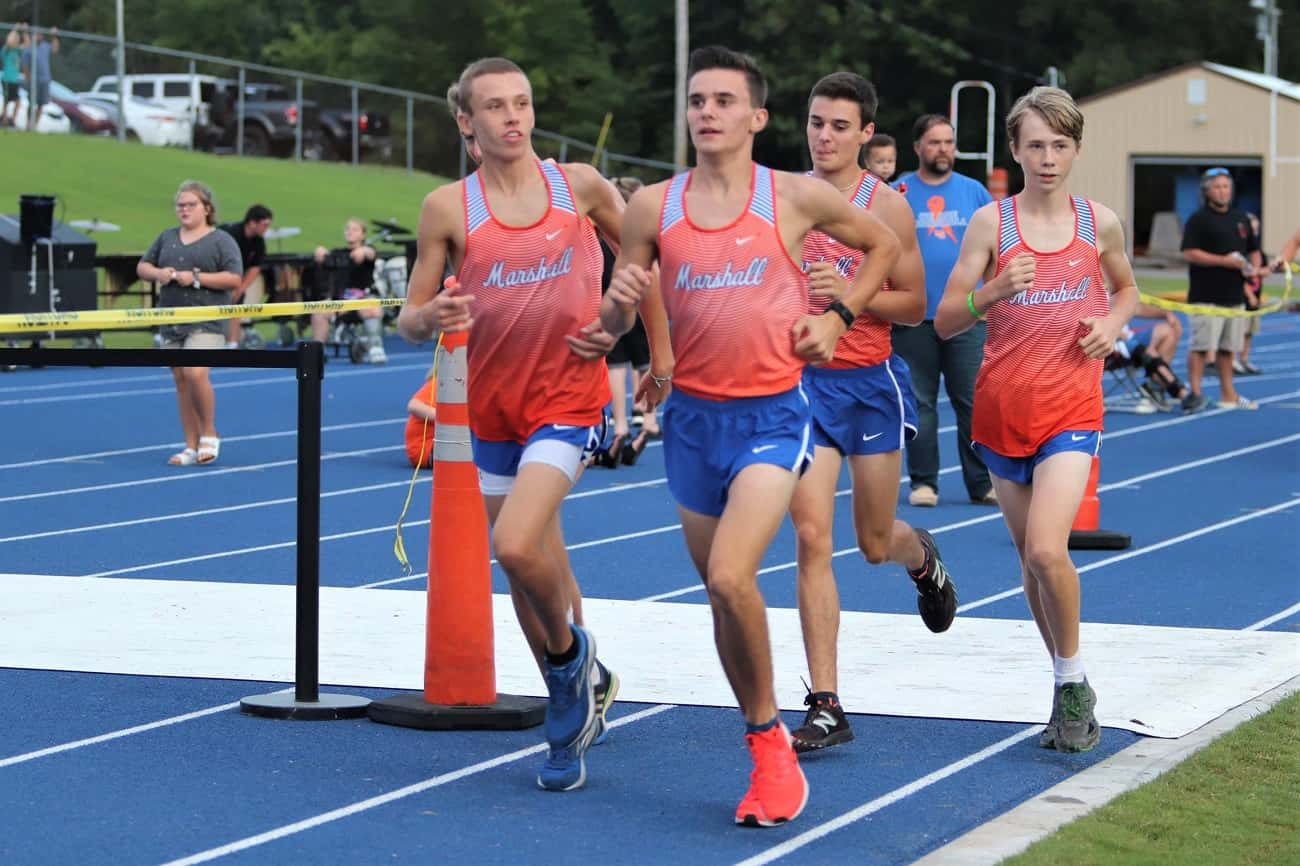 Marshall County's cross country team kicked off the 2019 season with their annual Run-a-Thon at Friday's home football game. Team members ran laps around the track to raise funds to support the program.
Both the girl's and boy's teams competed in last years KHSAA Class 3A State Cross Country Championships and hope for a repeat performance this year. Sophomore Samuel Lanham and junior Gabbi Lovett recorded the top finishes for both teams at state and are back this season along with the majority of the team that qualified for state.
The Marshals will be anchored by seniors Knox Sandlin, Christian Cosner and Mason Cosner. Back for the girl's, freshman Alexia Minter, who finished with the second best time at state behind Lovett. They will also have three veteran seniors in Zoie Swoope, Kaycee Kemp and Emma Smith.
Ethan McCarty, a freshman this year, had the second best finish at state behind Lanham and placed second last season in the middle school state meet. McCarty earned All-Area 1 Middle School Runner of the Year honors last season.
Joining those already mentioned, the boy's team will be made up of juniors Jackson Miller and Eli Jones, sophomores Ilya O'Bryan, Thomas McClean, Ty Curtiss, Devan Bradley and Cade Flatt. Freshman Gage Lynch, Preston Lamb, Jesse Jones and Andrew Lanham. Rounding out the girl's team are sophomores Leah Vincek and Keylyn Mannon and freshman Taylor Bailey.
Head Coach Chris Kerrick said the team spent the summer training at 6:00 am so he knows they are ready to race.
"We have a strong group on both sides, but our competition is always strong in our region", Kerrick said. "The goal is to not only make it to state, but to bring home a trophy for the guys at the regional meet, which is hosted here this year."
With six seniors on both sides, Kerrick wants to see the teams finish the best they ever have in his years with the team.
"Saturday is our first meet, and we will know a lot after that race", Kerrick said. "However, I'm just honored to work with these young men and women. It took a lot to regain our purpose and focus last year, and I just want their hard work to pay off and for them to be proud of their hard work."
The team will open the season in Memphis on Saturday at the Memphis Twilight Classic and will follow that up the next two weekends at Calloway County on September 7 and on September 14 at the Warren East Twilight meet. The first home meet will be the Marshall County Invitational on September 28.