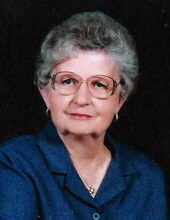 Amelia (Guhy) Hogancamp Neville, age 84, of Arlington, Kentucky passed away at Jackson Purchase Medical Center on Sunday, August 11, 2019.
Amelia was born in Milburn, Kentucky on June 21, 1935 to Clarence Boy and Dumpy Love (Brann) Guhy. After graduating from Murray State University with a master's degree in Library Science, she worked for many years in Carlisle County and Graves County Schools. She was also a homemaker, an excellent cook, and great at crocheting. She was also musically… inclined and could play many instruments. Amelia was a member of Arlington First Baptist Church and also attended the United Methodist Church in Arlington.
She is survived by her husband of thirteen years, Robert Roy Neville; two daughters, Sarah Lou (Bruce) Pitchford and Remica L. Bradley; six sons, John M.(Pamela) Hogancamp, David R. Hogancamp, Joe A.(Jackie) Hogancamp, George L.( Kristina) Hogancamp, Paul G.(Melonie) Hogancamp, and David W.(Kim) Neville ; two brothers, Wilbur G. Guhy and Bobby Joe (Nora) Guhy; twenty one grandchildren, Cristina Hogancamp, Jerri Hogancamp, Holly Vinson, Ashley Hogancamp, Brett Neville, Chasidy Ramey, Jim Bob Cobb, Jennifer Davis, Audrey Harrington, Aaron Hogancamp, Joshua Hogancamp, Andrew Hogancamp, Bridget Hogancamp, Jessica Courtney, Hannah Hogancamp, Rebekah Hogancamp, Jordan Hogancamp, Micah Hogancamp, Gabriel Pitchford, Tabitha Pitchford, and Danielle Thoman; and twenty three great grandchildren.
She was preceded in death by her parents; her first husband of forty three years, Dick Hogancamp; and daughter in law, Janie Hogancamp.
Services for Ms. Amelia will be held at Milner & Orr Funeral Home of Arlington on Wednesday, August 14, 2019 at 11:00 a.m. with Revs. David Sphinx and Keith Osborne officiating. Burial will follow in Roselawn Cemetery.
Visitation will be held at Milner & Orr Funeral Home of Arlington on Tuesday, August 13, from 5:00 p.m. to 8:00 p.m.
Expressions of sympathy may be made to: St. Jude's Children Research Hospital, 501 St Jude Place, Memphis, TN 38105-9959
You may go online to light a remembrance candle or leave a message for the family at www.milnerandorr.com