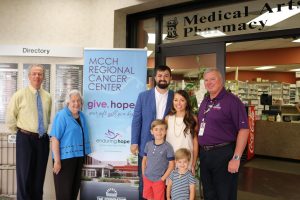 Pictured left to right: Keith Travis Chief Philanthropy Officer, Donna Herndon, Enduring Hope Campaign Chair, Sam and Brittany Brown (Pharmacist),
Jonah and Jack Brown, and Jerry Penner, CEO.
MURRAY, KY – The Medical Arts Pharmacy has presented a donation of $15,000 to the Foundation at Murray-Calloway County Hospital in support of the Enduring Hope Campaign for the building of a new Regional Cancer Center. The $15,000 is a commitment for the naming of an exam room at the future cancer center.
"We appreciate their continued support on the new cancer center as they were also a donor to the Anna Mae Owen Residential Hospice House," said Keith Travis, CPO.
The Enduring Hope campaign has been launched to raise money for a new $12 million Regional Cancer Center which will bring the oncologists, social workers, pharmacy, and infusion area under one roof. The centerpiece of the new Regional Cancer Center's equipment will be a state-of-the-art linear accelerator that can deliver stereotactic radiation therapy.
For more information on how you can support the building of a new Regional Cancer Center in Murray, please contact Keith Travis, Chief Philanthropy Officer at 270.227.0253.