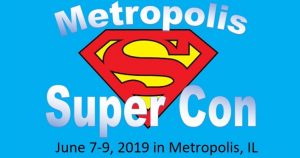 The 2019 Metropolis Super Con welcomes seven new vendors and 21 total for the June 7-9 event in Superman's adopted Illinois hometown. The 12th annual pop-culture and superhero convention, at 715 Market Street, features free admission and coincides with the 41st annual Superman Celebration.
"This year we have a really nice combination of vendors who should appeal to a wide range of people," Super Con promoter Kevin Stewart says. "There will be items for sale that will interest anywhere from hardcore fans to the novice collector to the average Joe.
New vendors include a sketch artist and a balloon twisting artist and a homemade superhero crafter, and of course, there will be tons of comic books, vintage toys and collectibles. There is something for everyone."
The Super Con opens Friday June 7 at 10 am with doors closing at 6. Saturday's hours are 9 am to 7 pm and Sunday's hours are 10 am to 2 pm. The event is next door to Thor's Gym, across the street from the Lois Lane statue and three blocks north of the giant Superman statue. The Super Con is in the same location now for the sixth straight year.
Vendors have committed to fill 50 tables.
According to the Metropolis Chamber of Commerce, the Superman Celebration is expected to draw 20,000-30,000 people. This year's guest celebrities include Erica Durance, who played Lois Lane for seven years on TV's "Smallville," and most recently starred as Dr. Alex Reid on the TV series "Saving Hope," and Helen Slater, who played the lead role in the 1984 movie "Supergirl" and plays Supergirl's adoptive mother on the current TV series "Supergirl."
More information about the Super Con can be found on the Con's website
www.supercon.us or on facebook at www.facebook.com/metropolissupercon/.