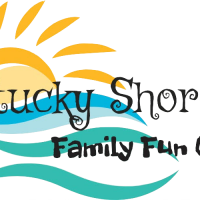 KY SHORES FAMILY FUN CENTER WILL OPEN APRIL 6th FOR THE 2019 SEASON! They will be open Fridays, Saturdays, and Sundays until School is out.  Once school is out for the summer, they will be open 7 days a week!
If you haven't already heard, Kentucky Shores Family Fun Center has NEW OWNERS!!  Chris Lamb and Kent Manning purchased the property last year and have been working on MAJOR renovations ever since with the assistance of their Operations Manager Kenisa Lamb.  Their plans are to eventually be utilizing all 37 acres for Family Fun.  Having young kids, the Lambs know how important it is to have something for all ages to enjoy on the same property.
In addition to the iconic Go Carts and Mini Golf (which have been cleaned up and updated a bit), they are adding SO MUCH MORE!! The zip lines will still be in use as well.  The arcade has been completed cleaned out and turned into a black-lighted arcade with ALL NEW GAMES….that's right….ALL NEW GAMES!!!!  They will also be adding a Corn Maze, which is sponsored by Lake Life Powersports & Marine in Benton.
Did I mention PAINTBALL?!  They are setting up a large paint ball field!  Want more outside games? How about some HUGE bounce slides/houses?  The Train has been updated!  They will be adding a Rock Wall, Bungee Trampoline, and much more as the season progresses.
The new owners have heard your concerns from the past few years and are doing EVERYTHING they can to correct them.  They have completed some MAJOR renovations since last season and have Ground Maintenance ON STAFF to keep the property safe and clean for you and your family.
The Cafe will have Hunts Brothers Pizza, Popcorn, Dip N Dots, and Drinks to start with MORE coming soon!  Plus BIRTHDAY PACKAGES!
The Birthday Club from the previous management will stay they same (for right now) but Kenisa has some EXCITING improvements coming soon.
Check out these prices!!!  So much fun at an affordable price…..and right here at home!  Be sure to go out and support this Local Small Business this Spring/Summer!
‼️New prices‼️
????FUN ZONE
(Unlimited day pass & one free train ride)
-Admission: Children ages 8 years and under $8.00
-Children ages over 8 years old $11.00
????ZIPLINES (Price reduced)
-Two lines $25.00
-Eight lines $40.00
????Groups of four people or more $140.00 ($20 off)
????COMBO DAY PASSES #1
age 8 and under $20.00
Includes:
-Miniature Golf
-Super Slide
-Fun Zone
-Bungee Trampoline
-Train
????COMBO DAY PASSES #2
age 8 and over $35.00
Includes:
-Go carts
-Bungee Trampoline
-Minature Golf
-Train
-Super slide
-Rock Wall
-Water wars
-Fun zone
????GO CARTS
-Six Laps $8.00
????Group Discount????
-Three people $20.00
-Ten people $70.00
????PAINTBALL
-Gun rental $25.00 includes 100 rounds of ammo.
-Extra 100 rounds of ammo is $5.00
⭐️Buy four rounds of ammo get one free⭐️
????ARCADE
⭐️Purchase $10 worth of tokens and get $12 worth of tokens free⭐️
???? Other Attractions, Individual prices????
-Train ride. $3.00
-Water wars. $3.00
-Rock Wall. . $5.00
-Bungee Trampoline $7.00
-Miniature Golf $6.00
-Super Slide $5.00 (Unlimited for day)