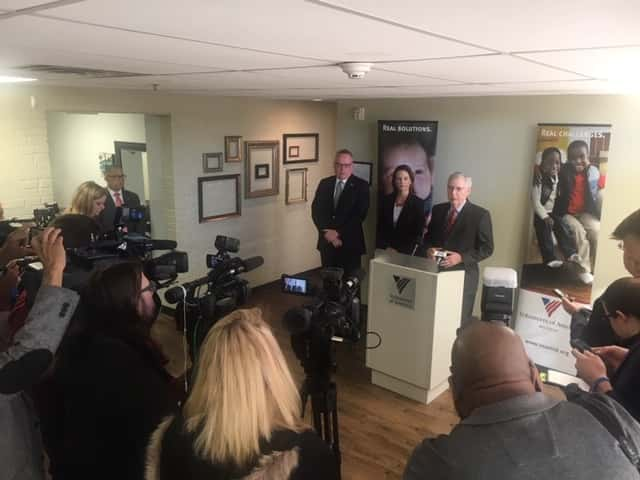 LOUISVILLE, KY — ONDCP Director Jim Carroll joins Senate Majority Leader Mitch McConnell and VOA President & CEO Jennifer Hancock in Louisville, Kentucky for press conference
LOUISVILLE, KY – U.S. Senate Majority Leader Mitch McConnell (R-KY) welcomed Jim Carroll, Director of the White House Office of National Drug Control Policy (ONDCP), commonly known as the "Drug Czar," to Kentucky today. Senator McConnell invited Director Carroll to Kentucky to get a close up view of the substance abuse epidemic and the problems we face in the Commonwealth.
Director Carroll joined Senator McConnell for visits to the Volunteers of America's Freedom House in Louisville, and the Kenton County Detention Center in Covington, Kentucky. Senator McConnell said that Director Carroll's visits helped ONDCP better understand the scope of Kentucky's drug problem, and make an informed decision on what is necessary to continue the federal government's commitment to combating drugs in the Commonwealth.
Freedom House is a family-centered treatment facility focusing on helping to prepare individuals to overcome their addiction. The Kenton County Detention Center is also playing a role in combating the substance abuse epidemic with its first-in-the-nation, jailed-based treatment program for inmates.
"It was my privilege to welcome Director Carroll to Freedom House in Louisville and the Kenton County Detention Center in Covington," said Senator McConnell. "I make it a priority to invite Drug Czars to come here, so national policymakers can hear directly from those on the frontline of our fight against of opioid and substance abuse. Director Carroll's office also oversees the critically important High Intensity Drug Trafficking Area (HIDTA) program, which streamlines efforts to stop the flow of drugs into our communities. I was proud to bring the leaders of Kentucky's comprehensive response together with the Drug Czar to continue mapping out our next steps to help those suffering from addiction."
"Parents, families, and communities across Kentucky know firsthand how truly devastating the impact of America's addiction crisis has been," said ONDCP Director Carroll. "Leader McConnell is playing a critical role in making meaningful reforms to help prevent drug abuse, treat addiction at the local level, and stop the flow of lethal drugs from coming into our country. It was great to be with him today and to see the incredible work being done in Kentucky as part of an all-hands-on-deck approach. The Trump Administration appreciates his continued focus on reversing the pattern of drug abuse."
"Leaders like Senator Mitch McConnell and Director James Carroll uniquely understand the very tough work of helping our families and friends overcome addiction.  Volunteers of America appreciates their visit today, their ability to bring so many experts together and their drive and commitment to finding solutions. Volunteers of America is so grateful to Senator McConnell for being an advocate and leader on the issue of addiction recovery and treatment.  We thank him for arranging the visit by Director Carroll and are eager to have a discussion about the challenges we've met and the work that still needs to be done," said Jennifer Hancock, President & CEO, Volunteers of America Mid-States. "Right here in Louisville, Volunteers of America has an innovative and cost-effective program that changes the lives of pregnant and parenting moms struggling with addiction.  With the help of leaders like Senator McConnell, we know that Freedom House can work in every part of our nation."
"We appreciate Senator McConnell's and Director Carroll's work to combat the epidemic of opioid and substance abuse, especially their efforts to partner with local government to make a difference," said Kris Knochelmann, Kentucky County Judge/Executive. "As a Kentuckian, I'm especially proud to see Senator McConnell leading the way in passing landmark legislation that provides real tools that we can use in this fight.  Kentucky's elected officials are working together at all levels, and Senator McConnell is a leader in this battle."
"By bringing the Drug Czar to Kentucky, Senator McConnell is showing his commitment to combatting the opioid crisis," said Terry Carl, Kenton County Jailer. "Director Carroll's visit today reinforces the partnership between federal, state, and local governments to battle the devastating drug epidemic and to save lives. We are proud of our 'Start Strong COR-12' program here in Kenton County, and we hope it can be an example of life-saving work at the county level."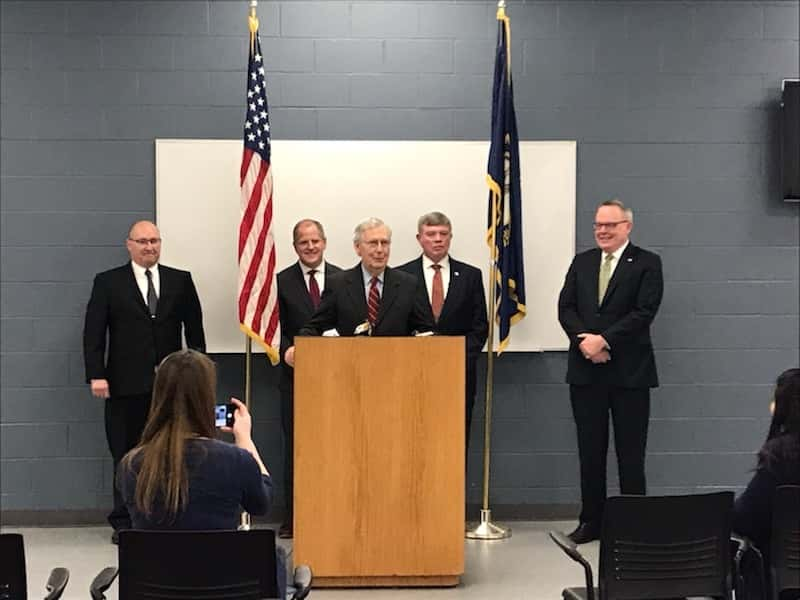 COVINGTON, KY — Senator McConnell joined by (L-to-R) Jason Merrick, Director of Inmate Addiction Services, Kenton County Detention Center, Kenton County
Judge Executive Kris Knochelmann, Kenton County Jailer Terry Carl, and ONDCP Director Jim Carroll