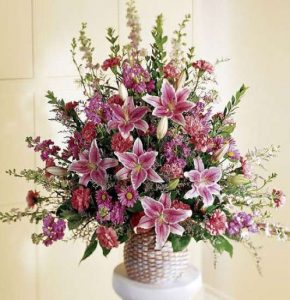 Mrs. Annie Pearl Adams, age 102, of Fort Myers, Florida, formerly of Murray, Kentucky, died on Tuesday, March 12, 2019.
Mrs. Adams was born on August 27, 1916 in Fayette, Alabama to the late David Austin Smith and Zelma Holliman Smith. She was also preceded in death by her husband, Jefferson Adams. As well as two twin daughters June and Judy Adams.
Survivors include three sons, John D. Adams and wife Mary Ann of Tampa, Florida, Thomas G. Adams and wife Denise of Cape Coral, Florida and Jimmy G. Adams of Fort Myers, Florida; two brothers, Preston Smith of Mobile, Alabama and Max Smith of Alan Park, Michigan; as well as six grandchildren and eleven great-grandchildren.
Funeral services will be held on Monday, March 18, 2019 at 11:00 a.m. at the J.H. Churchill Funeral Home with Bro. Ralph Smith officiating. Burial will follow in the West Fork Cemetery. Visitation will be held on Sunday, March 17, 2018 from 4:00 – 7:00 p.m. at the J.H. Churchill Funeral Home.
Online condolences can be made at www.thejhchurchillfuneralhome.com