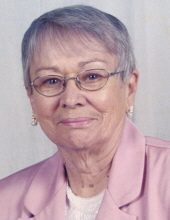 Wilma Gwendolyn Johnson Peyton, 87, of Paducah, formerly of Grahamville, died at 6:47 am on Wednesday March 3, 2019 at Parkview Nursing and Rehabilitation Center.
Mrs. Peyton was homemaker. She attended Harmony Baptist Church for many years. She enjoyed gardening and her flowers and also liked to fish. She was a beloved Nanna to her grandchildren, great grandchildren and great great grandchildren.
She was born Feb. 29, 1932, a Leap Day baby, in Livingston County and spent her youth in Smithland before marrying and living first in Lone Oak and then for several decades in Grahamville until her move to Parkview Nursing and Rehabilitation Center.
Survivors include one daughter, Cindy Peyton Stimson, and husband Rick Stimson of Grahamville; granddaughters Holly Hampton-Hyde of Grahamville and Heather Reid Lynn and husband Sean Lynn of Heath; great grandchildren Katlyn Riley and husband Kurck Riley of Grahamville; Adam Lynn and Reid Lynn of Heath; and great great granddaughters Kinsley and Klaire Riley of Grahamville.
She was preceded in death by her husband of 57 years, Paul Peyton. Her parents were Thomas Johnson and Magnolia (Parks) Johnson, although following her mother's passing, stepmother Anna Belle Johnson was very much a mother to her.
Services will be at 12:00 noon on Saturday, March 16, 2019 at Milner & Orr Funeral Home of Paducah with the Rev. John Smithmier officiating. Burial will be at Palestine Methodist Church Cemetery.
Friends may call from 11:00 am until 12:00 noon at the funeral home.
Expressions of sympathy may take the form of contributions to Alzheimer's Association, Greater KY Chapter, 6100 Dutchman's Lane Suite 100, Louisville, KY, 40206-3506.
You may leave a message or light a candle online at www.milnerandorr.com