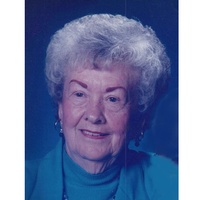 Mrs. Ruby Nell Lovett, age 92, of Mayfield passed away on Tuesday, March 12, 2019 at her residence.
She was a member of Calvary United Methodist Church, a retired waitress and a homemaker.
Mrs. Lovett is survived by her husband, Joe T. Lovett; one son, Joe (Phyllis) Lovett, Jr. of Mayfield, KY; two daughters, Carolyn Sue (Larry) Green and Sherron Moffitt both of Mayfield, KY; one sister, Wanda Little of Benton, KY; seven grandchildren; and fourteen great grandchildren.
She was preceded in death by four sisters, Edith Darnell, Pauline Siress, Rachel Siress and Emma Nell Rudd; three brothers, R.V. Rudd, Bill Rudd and John Rudd; and her parents, Y.W. and Pearl Canup Rudd.
Funeral services for Mrs. Ruby Nell Lovett will be 1:00 p.m. on Thursday, March 14, 2019 at Byrn Funeral Home in Mayfield, KY.  Rev. Kathy Belcher will officiate.  Interment will follow at Highland Park Cemetery.
Pallbearers will be Shayne Green, Joe David Green, Michael Moffitt, Devin Lovett, Andrew Green, Caleb Veatch and Alex Green.  Honorary pallbearers will be Jonah Lovett, Zaiden Sanderson and Jace Brown.
Visitation will be 11:00 a.m. – 1:00 p.m. on Thursday, March 14, 2019 at the funeral home.