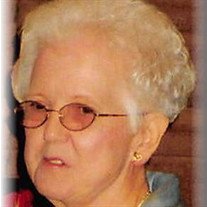 Mrs. Margie Marie Belcher, age 83, of Calvert City, KY passed away on Wednesday, March 13, 2019, at Ray and Kay Eckstein Hospice Care Center in Paducah, KY. She worked in retail for many years and was a member of Christian Fellowship Church
Born Monday, June 10, 1935, she was the daughter of the late Melvin Walker and the late Arena (Blake) Walker.
Surviving are her daughter; Patricia Lewis of Calvert City, KY, sisters; Dean Rhodes of Central City, KY and Lottie Brown and 12 grandchildren.
She is preceded in death by her husband Cevil Dennis Belcher; brothers Melvin Kenneth Walker, Basil Bruce Walker, Larry Ray Walker, Gilbert Walker; sisters Dorothy Nell Walker, Katherine Walker and Rebecca Jean Allen.
A Funeral service will be at 11:00 AM on Saturday at Collier Funeral Home located at 211 West 5th. St. Benton, KY 42025 with the Rev. Richie Clendenen officiating.
Interment will follow in Marshall Co. Memory Gardens, Benton, KY.
The family will receive friends from 5:00 PM to 8:00 PM on Friday, March 15, 2019, at Collier Funeral Home.