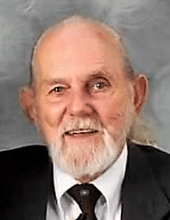 David Earl Reason, Sr., 83, of Benton, KY, passed away Tuesday, March 5, 2019 at 8:21 P.M.
David was born in McCracken County on October 23, 1935 to Cyril and Katherine Reason. He served in the United States Army during the Korean and Vietnam wars. He was awarded the Medal of Honor and the Distinguished Service Cross. He retired after 20 years, as a Sergeant First Class. He was a member of the American Legion Post out of Benton. He was also a retiree with the Instrument Maintenance Department… of General Tire.
Mr. Reason is survived by his wife of 26 years, Verna Kay Yarbrough Reason; his daughters, Stephanie Sheppard (Timothy), of Paducah, Anna Quist (John), of Richardson, TX; his sons, David Reason, Jr. (Diana), of Wichita, KS, James Reason (Marsha), of Paducah, Jeffrey Reason, of Benton, KY, Christopher Reason (Sue), of Clarksville, IN; 17 grandchildren; 18 great grandchildren.
Mr. Reason was preceded in death by his parents, Cyril Reason, Sr. and Katherine Marie Riley Reason; his sister, Margaret Filehauer; his brother, Cyril Reason, Jr.; his granddaughter, Elizabeth Reason.
A graveside service with Military Rites is scheduled for 11:00 A.M. Friday, March 8, 2019 at Owens Chapel Cemetery with Deacon Terry Larbes officiating.
Visitation is scheduled for 5:30-7:30 P.M. Thursday, March 7, 2019 at the Lone Oak Chapel of Milner & Orr Funeral Home.
Expressions of sympathy may take the form of contributions to: Disabled American Veterans, 1133 Murray Ave., Paducah, KY 42003.
You may leave a message of condolence or light a candle of remembrance at milnerandorr.com.