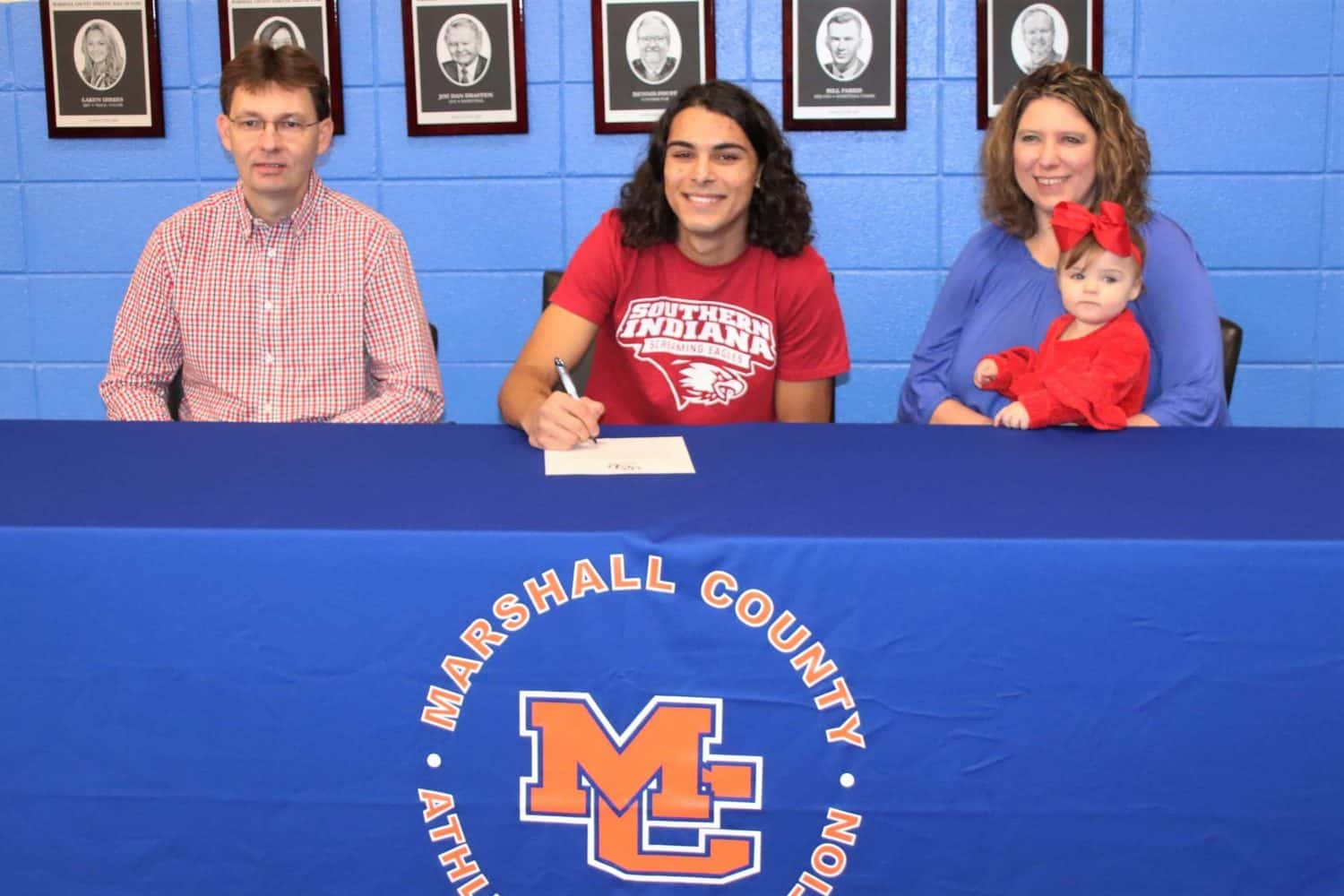 Daniel Gardner signed Thursday to continue his soccer career at the University of Southern Indiana where he will play for Head Coach Mat Santoro who is in his 10th season with the Screaming Eagles. USI is a Division II school and member of the Great Lakes Valley Conference, finishing 13-4-1 this past fall season.
Daniel has been a member of the Marshall County soccer team since 2015 and a key contributor on the varsity level starting with his freshman season. He was part of this year's district championship team and has played multiple positions with the Marshals. In his four years on the varsity squad, Marshall County went 49-28-5, while Daniel scored 35 goals and had 19 assists. He is highly respected by his teammates and a leader on and off the field.
"Daniel has worked very hard for this opportunity", Head Coach Donnie Heath said. "He is a natural leader and welcomes that role. He took on a new position this season and made the transition seamlessly. Daniel is a player other teams would always scout and key in on and he still managed to influence every game he was in. He wants to be coached and is always trying to get better. We're very happy he is a part of our program."
Daniel was voted Team MVP by his teammates twice and awarded the Calvert City Heritage Bank Orange Classic MVP. He was team captain his senior season and selected to the All-District Team three times, All-Region 2nd team once and All-Region 1st Team three times and selected to the 2018 All-State 2nd Team.
Daniel credits past and current coaches who have helped with his development including MCHS coaches Donnie Heath, Bryan Blevins and Andy Pagel. The Marshall County program has played a large role in his growth as a person along with the support of his family, parents Randy and Kim and his grandparents, throughout his soccer career.
"Daniel will be missed at Marshall County High School", Heath said. "We appreciate his commitment toward the program and are very proud of the man he has become. We're excited for him and look forward to seeing all he accomplishes on and off the field."