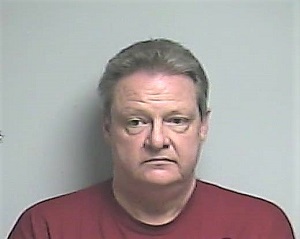 On February 14, 2019, the McCracken County Sheriff's Office was contacted by the Kentucky State Police in reference to allegations of inappropriate contact and communications between a minor and the McCracken County High School Fishing Coach John Parks. Our office made contact with the victim and arrangements were made to
conduct an interview to further investigate the allegations at approximately 13:30 yesterday.
Detectives reviewed electronic communications between Parks and the minor and completed an oral interview with the victim. A meeting with the McCracken County Commonwealth Attorney's Office was held to discuss the details of the investigation.
At the conclusion of the meeting the decision was made to arrest Parks and charge him with Sexual Abuse First Degree. A search warrant was prepared and signed by a district judge authorizing Sheriff's detectives to search Parks' vehicle, residence, and to recover any and all electronic devices located as a result of the searches.
At 19:40 detectives located Parks at an address on Court Avenue in Paducah at which time he was taken into custody and his vehicle searched. Detectives then traveled to Parks' residence located on Jeffery Lane and executed the search warrant at his residence at 20:09.
Upon reviewing a portion of some of the items seized pursuant to the search warrant, detectives identified inappropriate images that were believed to be of a second minor.
Detectives worked into the early morning hours, located and identified the individual and confirmed they were in fact a minor at the time the images were obtained. It was also determined that the individual was unaware Parks was in possession of the images.
The investigation is ongoing and multiple electronic and storage devices will be analyzed as a part of this investigation.
Due to the nature and sensitivity of the investigation, The McCracken County Sheriff's Office cannot release any further information at this time.
Parks was lodged in the McCracken County Regional Jail for Sexual Abuse 1st Degree and Possession of Child Pornography.
ARRESTED:
Parks, John M. 56 years of age
CHARGES:
1. Sexual Abuse In The First Degree (Class D Felony)
2. Unlawful Use Of Electronic Means Originating Or Received Within The Commonwealth To Induce A Minor To Engage In Sexual Or Other Prohibited Activities; Prohibition Of Multiple Convictions Arising From Single Course Of Conduct; Solicitation As Evidence Of Intent (Class D Felony)