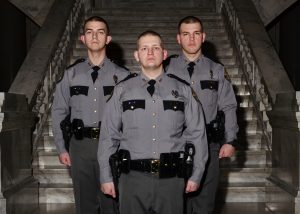 Pictured front row: Trooper James Stewart, Back row: Trooper James Stewart and Trooper Austin Ramage
K.S.P. Post 1 Welcomes New Troopers
HICKORY, KY (February 15, 2019) – K.S.P. Post 1 welcomes three new troopers. Trooper Justin Fox from Scottsville, KY., Trooper James Stewart, from Steele, MO., and Trooper Austin Ramage, from Mayfield, KY., who were among the thirty-five cadets to graduate the twenty-five week training academy in Frankfort on Friday, February 1, 2019.  With the addition of these three Troopers, Post 1 has twenty road Troopers, and seven general investigators.
The new troopers will spend eight to twelve weeks with a supervised field training officer before working their assigned county. Two troopers will be assigned to Post 1's western squad, which includes the counties of Fulton , Hickman, Carlisle, Ballard, Calloway and Graves .  One trooper will be assigned to the eastern squad which includes the counties of Livingston, Lyon, Marshall, McCracken, and Trigg.
KSP is now continually accepting applications. For more information, visit the Kentucky State Police Recruitment website at http://kentuckystatepolice.org/recruitment/ . Applicants may also call the Recruitment office toll-free at 1-866-360-3165 during office hours from 8 a.m. to 4:30 p.m. (ET) Monday through Friday or leave a message any other time.