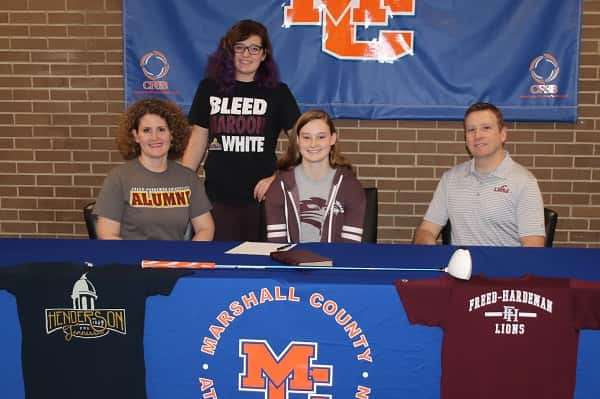 Sydney Phillips signed Thursday to continue her golf career and pursue her degree at Freed Hardeman University. Phillips will play for Head Coach Chris Hodges in the NAIA division and a member of the American Midwest Conference.
Sydney has been a member of the Marshall County High School golf program for five years and was a part of the team's fourth place finish this past fall in the KHSAA Girl's State Golf Championship.
"Sydney is an outstanding young lady and leader and will be an amazing asset to Freed Hardeman University", Head Coach Stephanie Fisk said. "Sydney has an incredible work ethic and drive as well as leadership qualities that have helped lead her team to a Regional Championship as well as a State Medal in 2018."
Fisk added that Sydney is a very respected member of the team and loved by her Lady Marshal teammates as well as an inspiration to classmates, players, church and family members.
Sydney credits many with her development and love for the game of golf, including her parents Scott and Lori Phillips, swing coaches Nick Mills and Nick Newcomb, former and current MCHS coaches Vince Doom and Stephanie Fisk and other local and state coaches along the way.
"Sydney has been such an amazing asset to the MCHS golf program and her abilities as well as her drive are going to be major contributions to Freed Hardeman University", Fisk said. "I am beyond blessed that I have had the opportunity to know and work with her for the last four years. We are truly going to miss her."