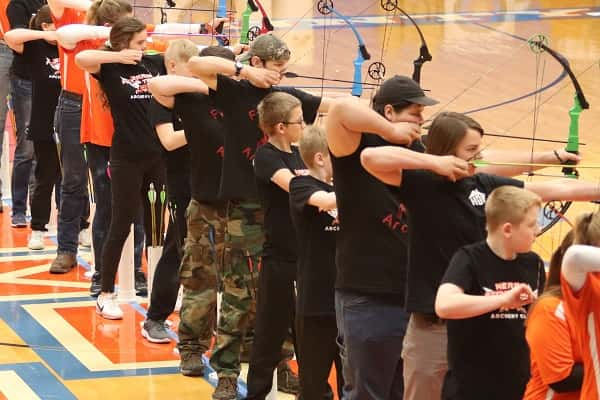 Along with our local archery teams from Marshall County and Christian Fellowship, a team of homeschool archers from the south end of the county have also been lining up in competition this season as part of the National Archery in Schools Program (NASP). The Olive Homeschool Co-op team has been participating in regional tournaments including this past weekend's Marshall County Bulls Eye Blowout with 18 archers ranging from elementary to high school level.
In their first eight events of the season, 8th grader Jireh Thompson has led the team in scoring in all but one tournament and has consistently ranked first or second in the middle school boys division. Sophomore Christian McManus, freshman Elijah Thompson, 5th grader Levi Thompson, senior Garrett Potter, 8th grader Sophie Holbrook and 5th grader Kaden Kortz all are consistent top scorers for the Olive Homeschool squad.
Levi Thompson has ranked first among elementary age archers in six of eight events so far this season. Christian McManus and Elijah Thompson rank among the top 20 high school competitors consistently through the first eight events.
The team will be competing in the NASP Region I Tournament Feb. 8 at Trigg County.
Top five Olive Homeschool Co-op results, team rank, scores and link to full results:
| | | | | |
| --- | --- | --- | --- | --- |
| TOURNAMENT | ARCHER | SCORE | TENS | RANK |
| 12/8 Murray Season Kick-off | | | | |
| 4/6 Score 3117 Tens 91 | Jireh Thompson | 280 | 13 | 2/75 (MS) |
| Full results | Elijah Thompson | 272 | 11 | 13/47 |
| | Levi Thompson | 271 | 13 | 1/47 (EL) |
| | Garrett Potter | 270 | 10 | 16/47 |
| | Sophie Holbrook | 267 | 8 | 13/74 (MS) |
| 12/14 Arrowcat Winter Warm-up | | | | |
| 9/17 Score 3096 Tens 91 | Christian McManus | 281 | 14 | 13/93 |
| Full results | Jireh Thompson | 280 | 14 | 2/88 (MS) |
| | Levi Thompson | 272 | 12 | 1/47 (EL) |
| | Elijah Thompson | 270 | 11 | 32/93 |
| | Garrett Potter | 268 | 12 | 35/93 |
| 12/14 Arrowcat 3D Challenge | | | | |
| 5/9 Score 1567 Tens 58 | Jireh Thompson | 287 | 18 | 1/14 (MS) |
| Full results | Elijah Thompson | 272 | 9 | 16/43 |
| | Christian McManus | 271 | 10 | 17/43 |
| | Levi Thompson | 255 | 8 | 1/9 (EL) |
| | Azriel Thompson | 255 | 8 | 16/26 |
| 1/4 Murray New Yr. NockBuster | | | | |
| 5/6 Score 2743 Tens 77 | Jireh Thompson | 293 | 24 | 2/90 (MS) |
| Full results | Levi Thompson | 273 | 10 | 1/58 (EL) |
| | Elijah Thompson | 264 | 9 | 47/85 |
| | Sophie Holbrook | 252 | 2 | 21/78 (MS) |
| | Kaden Kortz | 250 | 7 | 5/58 (EL) |
| 1/19 Graves New Yr. Shootoout | | | | |
| 4/7 Score 3135 Tens 106 | Jireh Thompson | 291 | 22 | 1/19 (MS) |
| Full results | Christian McManus | 284 | 16 | 5/65 |
| | Elijah Thompson | 275 | 11 | 19/65 |
| | Kaden Kortz | 271 | 11 | 1/51 (EL) |
| | Garrett Potter | 269 | 10 | 28/65 |
| 1/19 Graves 3D Challenge | | | | |
| 5/7 Score 1577 Tens 62 (HS) | Jireh Thompson | 287 | 20 | 1/60 (MS) |
| 1/4 Score 1335 Tens 28 (Elem) | Elijah Thompson | 276 | 16 | 7/43 |
| Full results | Christian McManus | 272 | 9 | 14/43 |
| | Levi Thompson | 271 | 8 | 1/30 (EL) |
| | Emma Sheridan | 253 | 5 | 14/46 (MS) |
| 1/26 MC Bulls Eye Blowout | | | | |
| 5/7 Score 3052 Tens 103 | Jireh Thompson | 293 | 23 | 1/54 (MS) |
| Full results | Christian McManus | 276 | 14 | 10/47 |
| | Elijah Thompson | 274 | 14 | 14/47 |
| | Levi Thompson | 272 | 12 | 1/31 (EL) |
| | Sophie Holbrook | 262 | 7 | 9/52 (MS) |
| 1/26 MC 3D Challenge | | | | |
| 3/4 Score 1598 Tens 56 | Jireh Thompson | 289 | 19 | 1/29 (MS) |
| Full results | Christian McManus | 268 | 8 | 4/12 |
| | Reiah Thompson | 267 | 8 | 1/11 (EL) |
| | Elijah Thompson | 264 | 7 | 5/12 |
| | Levi Thompson | 256 | 7 | 2/16 (EL) |