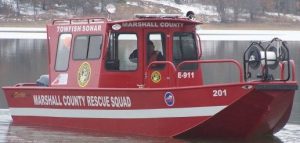 The Marshall County Rescue Squad was called out for two subjects in the water on the Tennessee River near Arkema and Baileys Port late Monday night.
Subjects were on a tug boat that sank and were picked up by another tug boat after being stranded in the water for about 20 minutes. The boat went down in an area of the river that is approximately 35 feet deep.  Both subject were transported to the hospital with non life threatening injuries for evaluation.
Mutual aid provided by Calvert City Fire and Marshall County EMS, Marshall County E.M.