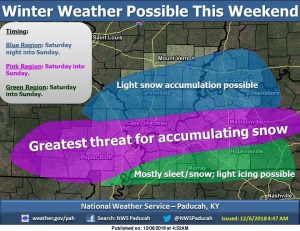 Information from the National Weather Service in Paducah, KY.
The threat for winter weather across the area is starting to become a little more clear.
This system will have a tight gradient of who sees snow as compared to sleet and rain. There will be some shifts in the data as we draw closer to Saturday and Sunday but the map attached is the current thinking on the winter storm
We continue to monitor a winter storm with the potential to impact portions of our region this weekend. There are many facets of this storm that make it difficult to pin down, but there has been a persistent signal for accumulating snow over at least the southern half of the region, beginning as early as Friday evening in southeast Missouri and possibly lasting through Sunday night or even Monday in eastern portions of the region. There could be some periods of sleet or even freezing rain, but at this time it appears that snow will be the most likely precipitation type over most of the area.
What we don't know or are skeptical about at this time, is the location of the northern edge of the snow, how quickly it will overspread the area, how quickly it will come to an end, and how much it will accumulate. Unfortunately, these details may not be determined until the storm begins to unfold over our region. It is possible that we may not see much, if any, snow with this system, but some locations, especially over southeast Missouri and western Kentucky, may see a significant amount.