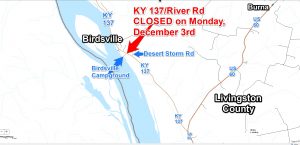 The Kentucky Transportation Cabinet plans to close a section of KY 137/River Road in LIVINGSTON County on Monday, December 3, 2018.
KY 137/River Road will be closed at the 3 mile marker immediately in front of the Birdsville Campground for the repositioning of a cross drain that was replaced in late October. The cross drain is being reworked to improve drainage at the site.
This closure is along KY 137/River Road 3 miles north of the US 60 Y between Desert Storm Road and Maple Lane.
KY 137/River Road will close at approximately 8:00 a.m., CDT, Monday. The roadway is expected to reopen to traffic around 3:30 p.m., CDT, on Monday.
There will be no marked detour. However, motorists may self-detour via KY 763 and US 60.
This project is planned on a weather permitting basis.