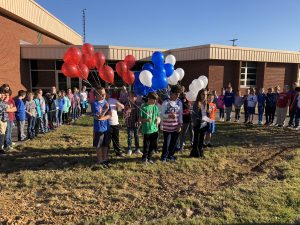 Fifth grade students at Sharpe Elementary School have been learning about the sacrifice veterans have made for our country. Students were challenged to come up with an idea or activity to pay to tribute or show respect to veterans.
Over the past few weeks, students have brought in friends and relatives who have served in a branch of the military to interview them and learn first hand of the sacrifices that were made through their service.
One group of students chose to do a balloon release in honor of all veterans.
The school will also be hosting a Veteran's Day program on November 9th at 10:00 a.m. where the students will be hosting veterans and showcasing the multiple projects they have completed.