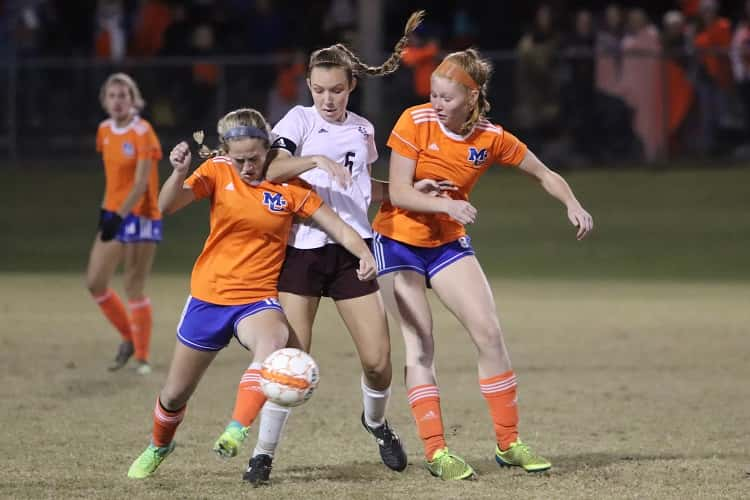 An epic battle…everything a first round semi-state game should be, is exactly what transpired for 80 minutes, plus two five-minute golden goal overtime periods and a round of penalty kicks to decide who moves on to the round of eight in the KHSAA Girl's State Soccer Tournament.
Handing #8 ranked Henderson County their first shut out in regulation since September of 2017, the game went into two golden goal five-minute overtime periods and still scoreless, went to penalty kicks. Still tied at 2-2 after the first round of PK's,  Lady Colonel keeper Ashby Greenwell made the save in the sudden-victory round, then Abbey Roberts found the net for the win.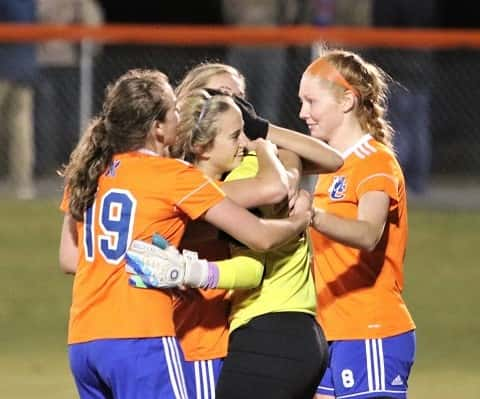 For the second straight year, the Lady Marshals season has ended in a first round semi-state overtime game, last season to Daviess County.
"I thought at times we were a little more defensive that we should have been, but we created a number of opportunities and I felt like our top opportunities were as good if not better than some of theirs", Coach Michael Boone said. "Compare where we were in August when we were playing them here, there is no comparison. The girls did a great job coming together, our seniors did a great job bringing us along. The shoot out is a terrible way to end it, but at some point you've got to end it."
The Lady Marshals defense held future Murray State player Maddie Griggs scoreless in regulation. Griggs had 57 goals coming into Monday's game.
Carlen Whirley made several great saves in regulation as well as in overtime. Whitley Watwood and Carmen Gunn scored the Lady Marshals two PK's in the shoot out. Griggs and Cecilia Palummo had the two for Henderson County in the first round, before the winning PK was booted in by Roberts.
"Congratulations to Henderson, there a good team and I wish them the best on Saturday", Boone said. "We gave everything we had and I couldn't be more proud of them."
With just two losses this season, the Lady Colonels move on to play Bethlehem, a 6-5 winner over Bullitt East. Of the eight semi-state games on Monday, one other was decided in overtime and penalty kicks in which Greenwood defeated Owensboro Catholic 2-1 in that game.
The Lady Marshals finish the 2018 season with a record of 14-8.