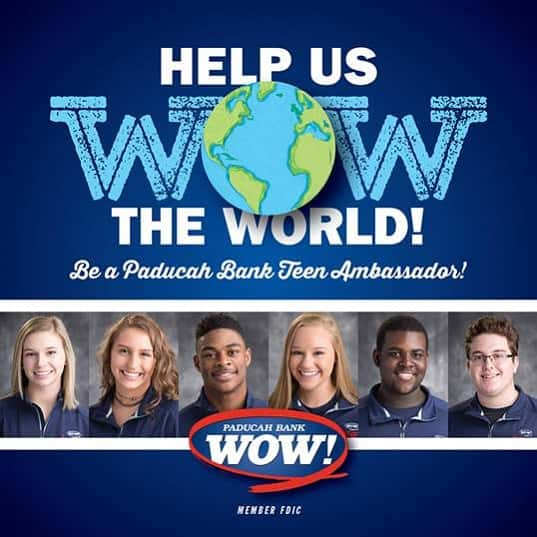 Paducah Bank is seeking influential teens from around the Paducah area to represent Paducah Bank in 2018-2019 as official Teen Ambassadors. The program was created two years to learn more about the needs and preferences of students.
"Our network of teen ambassadors will work alongside our professionals at Paducah Bank on real-life projects that support the marketing and development of the bank's emerging client segment," said Paducah Bank President Mardie Herndon. "They will have the opportunity to be a part of our team and to bring their personal creativity to our exciting and expanding organization."
Students will have the opportunity to earn incentives for spreading Paducah Bank's "WOW" message. They are encouraged to wear Paducah Bank gear, to post preapproved marketing messages on their social media channels, to recruit teens to utilize bank products and services, and to participate in ambassador events.
To be considered as a Teen Ambassador, teens must be in high school, attend an orientation, must have social media accounts with Twitter, Instagram, Snapchat and Facebook and be willing to post preapproved marketing messages, and must be willing to open a Smart Card account.
"Last year our Teen Ambassadors represented six high schools," said Marketing Director Susan Guess. "We believe the program does more than teach about marketing and banking, it brought teens from various backgrounds, schools, and interests and built a strong and cohesive team. They formed friendships and supported one another in activities outside of our program and they worked side by side volunteering with our bank employees. They also created a kindness mural with the help of MAKE owner Kijsa Housman and we will host a ribbon cutting next month to celebrate their commitment to building kinder schools and communities."
To apply to become a Teen Ambassador, visit the bank's website at www.paducahbank.com. A link is available on the homepage. Applications must be submitted by close of business on Tuesday, September 25.
For more information, contact Susan Guess at susan@paducahbank.com or 270.575.5723.