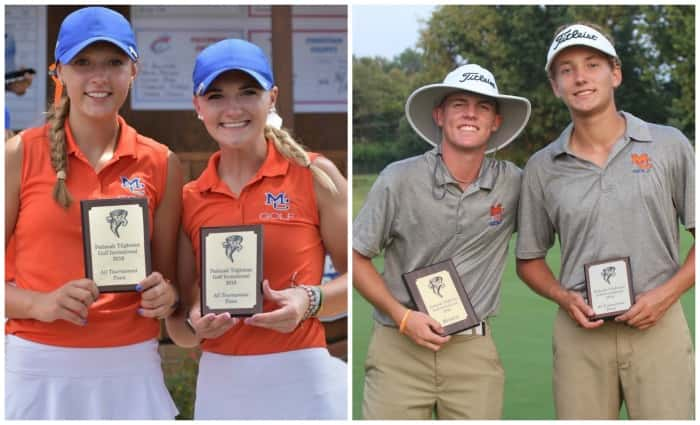 It was a double win for the Marshall County golf team at Saturday's Paducah Tilghman Invitational at Paxton Park, both the girls and boys took the team title while individual medalists were Marshall's Jay Nimmo and Nicole Taylor of Graves County.
For the Marshals it was a 1-2 finish with Tyler Powell taking second behind Nimmo. Nimmo shot a blistering 6-under par 65, Powell shot 1-over 72. Tyler Abernathy from Hickman County and Brogan Welsh of Murray tied for third with 74's. Also scoring for the Marshals, Camdyn McLeod 76, Nathan Clark 87 and Drake Butler 92.  The Marshals winning total of 300 was 24 strokes in front of second place St. Mary with 324 and McCracken County took third with 325 in a field of 17 teams.
"Jay had an outstanding round of golf this afternoon", Coach Keith Bell said. "He hit his mid-irons really well and his short game was some of the best that I have seen him play this season so far. He looked at me at one point in the round and said "Coach, my short game is pretty good today". I'm really proud of Tyler's and Camdyn's round today also as they play good consistent "close to par" golf. Nathan and Drake played strong to help round out a great team effort."
"In high school tournament golf, you need the lowest four scores out of 5 players and this team put together a great team score of 300", Bell added. "I hope that today's round on this golf course builds confidence for our team when we return for the regional tournament."
The Lady Marshals first place score of 316 was six strokes better than second place McCracken County and third place Graves County, both with scores of 322. Hallie Riley shot 75 to claim second place and Megan Herrter finished in a three-way tie for third with Ellie West of Graves County and Jessica Stephens of McCracken County, all posting 77.  Rounding out team scoring, Savannah Howell shot 80, Kenley Luksic 84 and Sydney Phillips 93 and playing as individuals, Katie Stokes 92 and Elsie Riley 108.