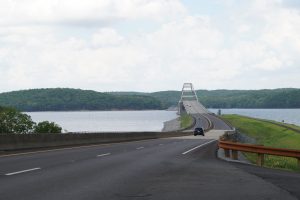 Westbound Lane Restriction on New US 68/KY 80 Eggners Ferry Bridge starting Tuesday, July 17th
The Kentucky Transportation Cabinet plans to restrict westbound traffic to one lane on the US 68/KY 80 Eggners Ferry Bridge at Aurora starting Tuesday, July 17, 2018.
Westbound traffic will be restricted to one lane along the 4-lane section of US 68/KY 80 on Eggners Ferry Bridge over Kentucky Lake to allow a detailed inspection of the bridge structure.
The inspection team will be using a UBIV- Under Bridge Inspection Vehicle to allow access to all areas under the bridge deck.
Westbound motorists should expect to encounter one lane traffic between 7:00 a.m., CDT, and 3:00 p.m., each day. Motorists should be alert for slowing and merging traffic as they approach the bridge where all westbound traffic will move to the left-hand or passing lane. Some lane restrictions may be required for eastbound traffic on Thursday or Friday.
Motorists should use appropriate caution where equipment, flaggers, and inspection personnel are along the bridge deck in close proximity to traffic flow.
All Kentucky bridges get a detailed inspection every two years as part of a federally mandated bridge safety program. All long-span lake and river bridges in Kentucky get an extra walk-through inspection annually.
Approximately 3,500 vehicles cross the New US 68/KY 80 Eggners Ferry Bridge over Kentucky Lake at Aurora in an average day.
The new $133 million basket handle arch structure was first opened to 2-lane traffic in December 2015 with 4-lane traffic starting in December 2016. The new bridge serves a river crossing that started with a ferry as early as the 1830s. The first bridge constructed at the site opened to traffic in 1932.
The New US 68/KY 80 Eggner's Ferry Bridge is at US 68 Marshall County mile point 28.146 and Trigg County mile point 0.0 at the western entrance to Land Between The Lakes National Recreation Area.
The bridge is at Tennessee River navigation mile point 41.7 near Aurora , KY. See More