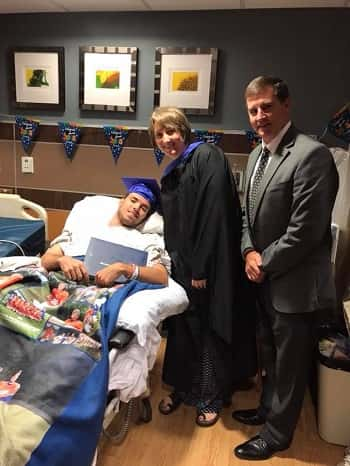 Cheers from family, friends and classmates met Grant Utley as he left Baptist Health Paducah this morning to be transported to the Shepherd's Rehab Center in Atlanta. Utley was injured in an automobile accident on May 19.
As a member of the Class of 2018, Utley was scheduled to graduate with his classmates on Friday, May 25. Since he was not able to attend graduation, staff and classmates brought graduation to his hospital room and he was presented with his diploma by Marshall County Principal Patricia Greer and Superintendent Trent Lovett.
A fundraiser has been set up for the Utley family that will take place at Ted Kinsey's Parkway Chrysler in Benton during the Kaleb Lee Meet and Greet on June 2 from 11:00 am – 2:00 pm. Donations will also be accepted at 6:00 that evening at the Kaleb Lee concert at Benton Golf and Country Club.