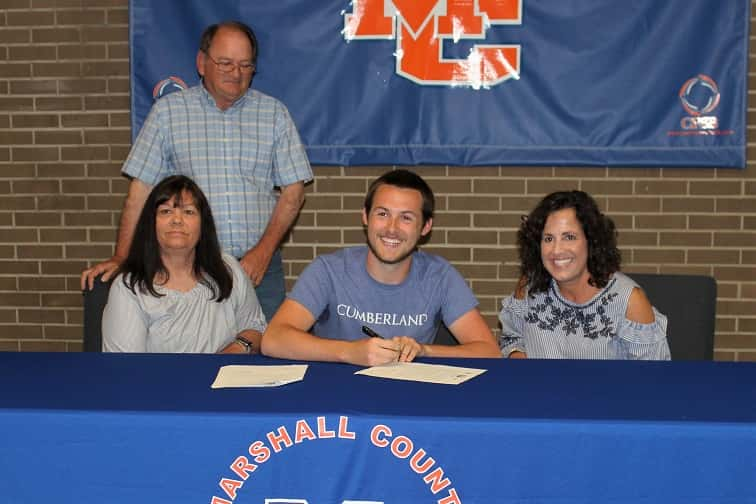 Marshall County soccer player, Cole Jewell, signed Tuesday to play soccer for the University of the Cumberlands in Williamsburg, KY. Jewell will play for second year Head Coach Christopher LeFerve in the Mid-South Conference. University of the Cumberlands is an NAIA school. The Patriots finished the 2017 season with a record of 8-7-3 and Jewell plans to contribute immediately to the 2018 season.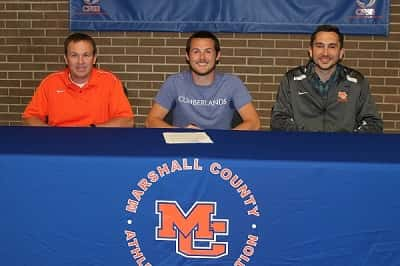 Jewell has been a member of the soccer program at Marshall County since 2013. After playing his freshman and sophomore years, Jewell missed his junior season due to an injury but came back his senior year ready to contribute. He was part of the regional title team his freshman year and can play any position on the field and is always willing to help the team in any way possible.
"Cole has worked so hard throughout his high school career for this opportunity and we are very proud of him", Head Coach Donnie Heath said. "Cole is a leader of the team. He was voted as one of the captains by his teammates and is highly respected by his peers and teammates. He pushes himself not only on the field, but also in the classroom. He embodies what we want our soccer players to be."
In 2015 he was voted Offensive MVP and in 2017 won the Stephen Poole Character Award by his teammates. Jewell was selected to the 2017 All-Region Honorable Mention team and maintains a 3.51 GPA.
Many have been a part of his development including past and current MCHS coaches Donnie Heath, Bryan Blevins and Andy Pagel as well as the Marshall County soccer program and his mother Lori, who has supported him with love and encouragement throughout his career.
Jewell says his fondest memories of his high school career is simply being with his teammates and the fellowship that they have enjoyed, not just as teammates but as friends.
"Cole will be missed at Marshall County, but we wish him well and know he will achieve great things", Heath said. "We are very proud of the young man he has become. We're excited for him and look forward to seeing all he accomplishes on and off the field."
He was joined at his signing by MCHS teammates, club teammates and friends.