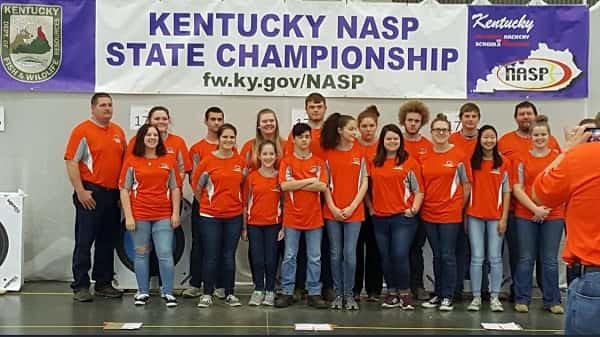 Wrapping up their season at the 2018 Kentucky NASP State Championship on Sat. Mar. 31, the Marshall County Archery Team finished 43rd out of 106 team competing with a total team score of 3281 with 153 tens. The team was led by Daniel Bryant with a score of 288 and 20 tens, Jacob Miller with 286 and 17 tens and both Kendra Cannon and Tanner Hobbs recorded scores of 285 and 18 tens. Bryant's top finish for Marshall County ranked him 31st among 1,154 high school boys while Cannon had the highest rank among high school girls finishing 44th among 1,081. The championship was held at the Kentucky Expo Center in Louisville.
Madison Central came out on top with a team score of 3438 with 226 tens, second went to Bullitt Central with 3429 and 221 tens and third went to Muhlenberg County with 3409 and 204 tens. The top individual was Henry Thompson from Anderson County with 298 and 28 tens and a tie for second between Thomas Fletcher of Madison Central and Sam Johnson of Bethlehem, both with 296 and 26 tens.
Ten team members competed in the IBO 3D Challenge. Out of 20 teams competing, Marshall County placed 11th with 1634 and 77 tens. Anderson County took first with 1737 and 131 tens, Bullitt Central second with 1709 and 109 tens and Lincoln third with a score of 1707 and 114 tens. Top individual in the 3D Challenge went to Henry Thompson of Anderson County with 298 and 28 tens, completing a sweep of both events. Second place went to T Sanchez of Hopkins County Central with 296 and 26 tens and third place was Joshua Smith of Model Laboratory School with 294 and 24 tens.
Marshall County placed sixth of 11 teams the previous weekend at the KHSAA Region I Tournament. Top archers were Bella Barrett with a score of 287 and 20 tens to placed second of 25 girls and Tanner Hobbs with 286 and 19 tens to placed 13th out of 108 boys. Henderson County took first and first place individual was T Sanchez from Hopkins County Central.
Marshall County Kentucky NASP State Tournament results:
| | | | |
| --- | --- | --- | --- |
| | SCORE | TENS | RANK/HS |
| Daniel Bryant | 288 | 20 | 31/1154 |
| Jacob Miller | 286 | 17 | 59/1154 |
| Kendra Cannon | 285 | 18 | 44/1081 |
| Tanner Hobbs | 285 | 18 | 71/1154 |
| Bella Barrett | 279 | 12 | 160/1081 |
| Ben Fulgham | 278 | 15 | 229/1154 |
| Kelsey Littrell | 273 | 14 | 275/1081 |
| Savannah Fulgham | 265 | 9 | 505/1081 |
| Brooklynn Givins | 264 | 6 | 547/1081 |
| Caleb Miller | 262 | 8 | 680/1154 |
| Cassidy Thorn | 259 | 8 | 642/1081 |
| Grace Boatright | 257 | 8 | 679/1081 |
| Olivia Miller | 254 | 5 | 747/1081 |
| Allyah Baker | 250 | 6 | 801/1081 |
| Mikala McKough | 249 | 8 | 814/1081 |
| Sydney Riley | 248 | 10 | 829/1081 |
| Emily Littlejohn | 226 | 4 | 1020/1081 |
Marshall County 3D Challenge results:
| | | | |
| --- | --- | --- | --- |
| | SCORE | TENS | RANK/HS |
| Daniel Bryant | 282 | 15 | 23/177 |
| Jacob Miller | 280 | 16 | 28/177 |
| Tanner Hobbs | 278 | 13 | 39/177 |
| Ben Fulgham | 273 | 14 | 56/177 |
| Kelsey Littrell | 263 | 9 | 73/180 |
| Caleb Miller | 258 | 8 | 100/177 |
| Savannah Fulgham | 258 | 10 | 84/180 |
| Grace Boatright | 255 | 10 | 100/180 |
| Bella Barrett | 252 | 6 | 108/180 |
| Brooklyn Givens | 251 | 5 | 114/180 |