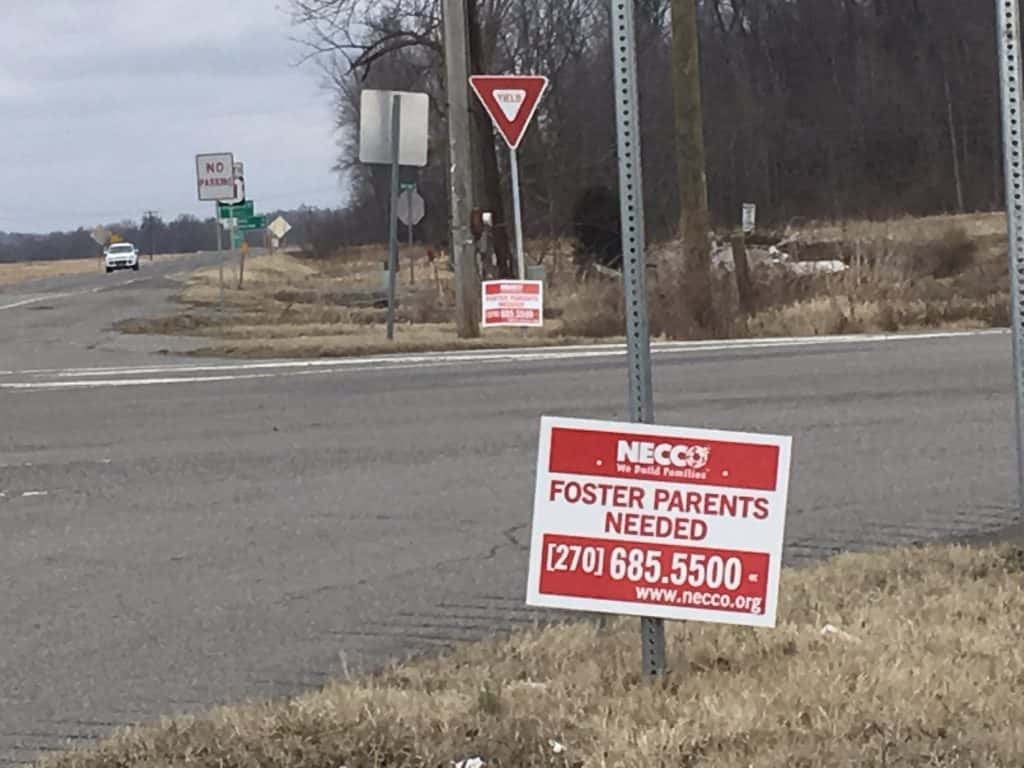 PADUCAH, Ky. (Feb. 16, 2018) – As spring approaches and election time nears, the Kentucky Transportation Cabinet is faced with the task of removing signs illegally placed on state right-of-way. Crews from around the District 1 area have fielded complaint calls and have added the removal of illegally placed signs to their list of maintenance activities.
Any sign, regardless of its purpose, is not allowed to be placed on state right-of-way unless otherwise permitted. State law requires highway personnel to remove all illegal signs.
"These signs interfere with highway maintenance operations, create a safety hazard if hit by mowers and present a safety hazard for motorists by blocking the view of oncoming vehicles," said KYTC District 1 spokesperson Keith Todd. "Time spent removing them also takes crews away from patching potholes and other important maintenance activities. We are asking candidates, homeowners, and businesses to take steps now to remove illegal signs from state right-of-way."
Signs that are removed will be held for 10 working days at the local state highway maintenance facility and may be picked up at those locations by a representative of the candidate or business with proper identification. Unclaimed signs will be discarded after 10 days.
As a reminder, the edge of right-of-way is generally indicated by the placement of utility poles or fence lines. In the case of most limited or controlled access highways, right-of-way edge is indicated by fence line. Essentially, any area that would normally be mowed by state crews or contractors in summer months is part of the right-of-way, even if it is commonly mowed by the adjacent property owner.
Homeowners in urban areas with curb and gutter should keep signs behind sidewalks.
Between now and the May 22 primary election, highway crews will be clearing highways of illegal campaign signs and other advertising. They will also be picking up signs in areas that have work zones for normal highway maintenance activities.
Kentucky Transportation Cabinet District 1 includes Kentucky's 12 westernmost counties.