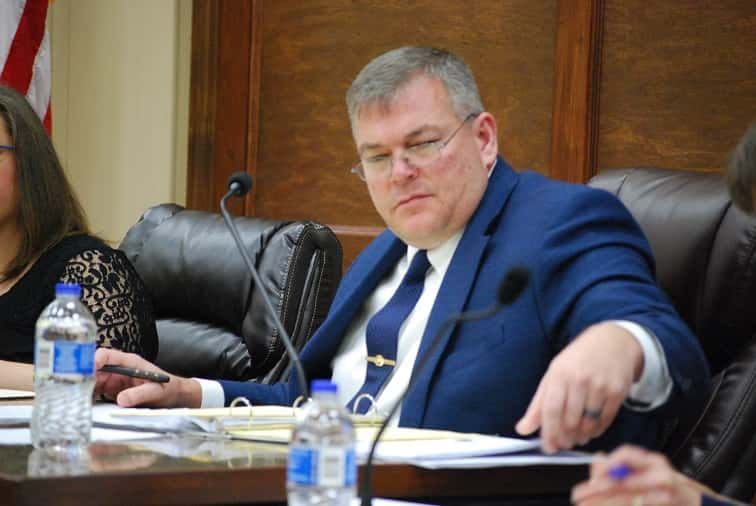 BY BOBBIE FOUST
Special to Marshall County Daily
Marshall County Fiscal Court took a giant step toward economic development Tuesday when members agreed to establish an industrial park. Commissioners Bob Gold, Johnny Bowlin and Dr. Rick Cocke authorized Judge-Executive Kevin Neal to sign a three-year option agreement for 300 acres on the southwest side of U.S. 641 South across from South Marshall Middle School at a cost of $30,000 annually.
"We all feel this is a huge decision for Marshall County in terms of industry — to bring in jobs to our community and our region," Neal said. He commended Josh Tubbs, county economic development director, for his work on the project. "Josh did a really good job coordinating and working with the landowners," the judge said.
Neal said the court identified 10 industrial park locations in a 2015 study and the U.S. 641 site was No. 2 on the list. The court called a meeting for 8 a.m. Tuesday, an hour and a half prior to its regular 9:30 a.m. meeting, to discuss the option agreement with landowners Ronald and Shelia Smith and Marky Smith in closed session. Discussions regarding land acquisition are exempt from Kentucky's Open Meetings Law, Kentucky Revised Statute 61.810.
The judge said he and Tubbs have several meetings scheduled with different agencies in Washington, D.C. next week to discuss the site. "I hope to come back with good news and options for us moving forward," he said. "This is a huge opportunity for Marshall County and our region."
The site is known as Southpark One, and the yearly option fee will be paid from funding generated through the Purchase Regional Park, and provided by Purchase Area Development District grants. "We basically dedicated those funds for economic development," Neal said. He added that the Tennessee Valley Authority's economic development arm partnered with the county "so we can get out and market the product in the future."
Tubbs thanked the court for its approval and said: "The most important thing we can do is have the product ready for companies. I think it's a tremendous step in the right direction for us."
Click the link to view the Conceptual Master Plan of the Southwest One Industrial Park. Southwest-One-Industrial-Park-MP
On another matter, the court voted to hire Brenda Edwards as interim treasurer to oversee daily operations in the county treasurer's office while Treasurer Emily Martin recovers from a tragic accident Saturday on the Western Kentucky Parkway near Caneyville, in Grayson County. The wreck injured Emily Martin and claimed the life of her husband, Brent Martin, and Melanie Wiles, a passenger in their vehicle. Edwards is the county Occupational Tax Administrator. The resolution specified that Emily Martin will resume the treasurer's duties as soon as she is able.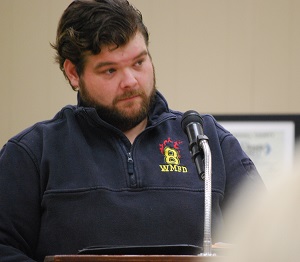 In other business the court:
·      * Approved a 2017-18 budget amendment reflecting increased revenue and spending totaling $369,934.38.
·      * Learned that Mediacom monthly rates are going up: Local broadcast will increase from $8:45 to $10:96; Regional sports from $2.99 to $3.38; Family TV from $71.95 to $75.49: HD DTA from, $2.99 to $3.99; SD DTA from $1.99 to $3.99; DVR service from $10.95 to $14.99; and Standard Installation Fee from $49.99 and $74.99 to $99.99. Neal said the rates will be posted on the county's website.
·      * Approved a bid of $86,215 for a new ambulance from Osage Ambulance of Linn, Missouri. Osage was the only bidder.
·      * Appointed Larry Neal to the Marshall County Extension Service Board to succeed the late Dennis Joseph who died last week.
·      * Learned a 2007 Gradall sold on GovDeals for $24,050.
·      * Voted to hire Benny Garland as a full-time truck driver in the road department at $17 per hour effective Dec. 18.
·     * Authorized county road Superintendent Wendy Greer to advertise for a new employee.
·      * Approved the county holiday schedule for 2018 — Martin Luther King Jr. Day, Jan. 15; Good Friday, March 30; Tater Day, April 2; Labor Day, Sept. 3; Veterans Day, Nov. 12; Thanksgiving, Nov. 22 and 23; Christmas, Dec 24 and 25 and New Year's, Dec. 31 and Jan. 1, 2019.
·       * Heard an update from Jonathan Smith regarding operations at Sanitation Districts 1 and 2. Ground has been broken for lift stations in District 1 and the lift station at Catfish Kitchen has been repaired, Smith said.