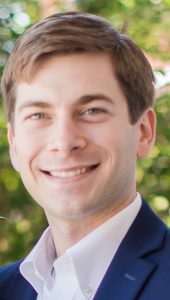 Local attorney Zachary D. Brien announced on Tuesday his intent to run for County Attorney in the 2018 election.
Brien is the Benton City Attorney and services as chairman for the Kentucky Lake Chamber of Commerce. According to Brien's letter of intent, the chamber launched a young professionals program. Brien said, if elected, he would focus on being a full-time, proactive county attorney.
"I will be a strong voice in the community to get ahead of the growing problems we face, rather than merely responding to those problems after the fact," Brien said in his announcement. "I will not only prosecute those who offend the law, I will use the excellent office staff and abundant resources to work to prevent drug use, child abuse an crime before they happen."
Brien faces independent opponent Jason Darnall, assistant county attorney. Seated County Attorney Jeff Edwards will not seek re-election this term.
See Brien's full letter of intent here.