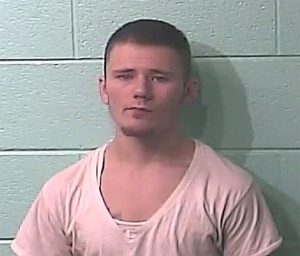 Kentucky State Police are still searching for an inmate who allegedly escaped from the Marshall County Detention Center.
According to KSP, Dakota W. Reeder, 20, of Simpsonville, about 8:30 p.m. Monday, Nov. 13, left the Marshall County class D facility in Benton.
"My understanding is that … he was assigned to that class D facility," said KSP Post 1 Public Information Officer Jody Cash. "I honestly don't know the specifics of the security of that building, but my belief is that he just walked off from there."
Class D facilities house those convicted of Class D felonies and are state inmates. However, Cash said often those inmates are assigned to a local detention center and perform work outside the facility, such as road clean up or other manual labor.
Local business owner Brien Chambers reported a 2008 Dodge Ram 1500 was stolen from Gerald Chambers & Sons last night. Marshall County Sheriff's Office is handling the vehicle theft; however, Cash said police had not confirmed any connection between the incidents as of about 2:30 p.m. Tuesday.
Reeder is described as a white man, about 5-feet-6, 140 pounds with brown hair and blue eyes. He was last seen wearing blue jeans, dark tennis shoes and a black, long-sleeve shirt. KSP declined to release specific conviction information, however Cash said Reeder was not jailed on violent offenses. While Reeder is not believed to be armed or dangerous, Cash said residents should still exercise caution should they come into contact with the suspect.
"He is an escapee, so our recommendation is do not approach him," Cash said. "Call 911."
Anyone with information is asked to contact the Kentucky State Police Post 1 at 270-856-3721 or anonymously at 1-800-222-5555. Citizens may also report tips anonymously through the KSP app.