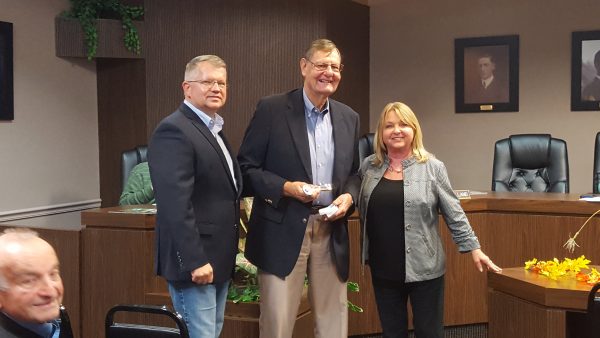 Benton City Council on Monday passed an ordinance that will increase the mayor's pay from $10,000 to $30,000 annually, effective Jan. 1, 2019.
The council voted 3-1 in favor of the ordinance, with Councilman Justin Lamb opposed to the measure. Councilwoman Sherra Riley abstained from voting; Councilman Chris Smithmier was absent from Monday's meeting.
It was a twist some weren't expecting. Riley, who first introduced the idea to the council during the Dec. 28, 2015, meeting according to the council minutes, asked to table the vote until the council could further evaluate the standard compensation package in comparable municipalities throughout the state. Riley said without a benchmark to examine, she didn't feel comfortable casting a vote.
"I feel like without a benchmark or a standard, a point of reference, that I don't need to vote on it," Riley said. "Because I feel like we ought to reach out to a professional – maybe the (Kentucky) League of Cities – and see what is the compensation for our size city and for the responsibilities of other mayors in this size city instead of just shooting from the hip, so to speak. We've got plenty of time; time's on our side to make sure we do it right. And I was the first one to bring up thinking that we need to do something, but I just don't want to go with an amount without having a standard set for now and for the mayors in the future, as well.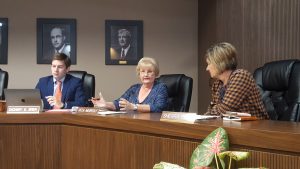 "I feel like this hasn't been addressed for many years, and so that's why it's at the amount it is," Riley added. "And we ought to set a precedence for what's going to happen in the future, while we're tackling it."
According to the Dec. 28, 2015, city council meeting minutes, Riley raised the issue as the result of time sitting Mayor Rita Dotson was putting into the position. Traditionally a part-time role, Dotson has worked full-time hours since her election. However, Kentucky Revised Statute 83A.070(1) prohibits an elected city officer's compensation from changing after his or her election or during the current term of office.
The matter again came before the council at its June 19, 2017, meeting, at which time the council unanimously agreed to move forward with drafting an ordinance to increase the salary and a revised job description that would outline council expectations. City Attorney Zach Brien told the council that as the position was elected, no specific time requirements could be placed on the position. However, he said the council could implement a job description that would outline full time duties to ensure the work.
The decision came in light of City Clerk Michele Edwards' retirement, at which time the city determined to combine duties of the city treasurer and clerks office, with the addition of a part-time assistant's position. The mayor would absorb some of those responsibilities, as well. The model was agreed upon in lieu of hiring a city administrator.
Brien drafted the ordinance, which was introduced during the Sept. 18 meeting and was met with no additional public discussion until Monday.
The council had attempted to call a special meeting last week to discuss the matter; however, scheduling conflicts prevented a quorum, and the meeting was canceled.
Lamb, like Riley, expressed concern about moving forward with the effort at Monday's meeting and said the motion should be tabled. Lamb said he too would like to see more thorough evaluation of comparable cities and their payment structures.
"I think we need to look at it from all viewpoints, look at all of our options before we vote on this," Lamb said. "I just think we're going too fast in it. I think we need to sit down and, like Sherra said, we'll check with KLC and see what other cities the same size as ours and how much compensation they get."
Councilman Butch Holland supported the effort and said the council had had plenty of time to evaluate and consider the matter since its introduction.
"This has been discussed for two to three years; two different city councils have discussed this," Holland said. "I think it's the proper first step… As it being the first step, I think there's no problem with going ahead with this and voting on it, because we can do what Sherra said for the next time this comes up on the next round. In my opinion, it's not enough even at $30,000. We can study it later, but I think this first step has to come now."
Councilwoman Rita Murray said the figure wasn't an arbitrary value, either. The council had freed $30,000 from its budget after Edwards retired, and duties were consolidated among the clerk and treasurer's office, Murray said.
"We didn't just pull that out of the sky," Murray said. "We had to look at our budget, we had to look at what we thought the city of Benton could afford to start out for mayor, even though it may turn out not to be enough. … The mayor has put in numerous, numerous hours at $10,000 a year. And how many here would work for $10,000 a year with all the responsibility that this lady has?"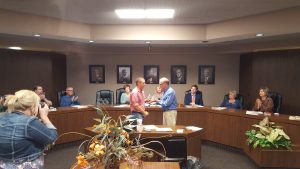 Lamb said he was concerned that council members and residents were looking at the job Dotson was doing rather than issue itself.
"We cannot make this about Mayor Dotson," Lamb said. "She's done a great job, and nobody's questioning that she's done a great job, but she's not going to be in that chair forever. Are we going to raise the salary and somebody get elected and they come in for one hour a week, and we still got to pay them $30,000 a year?"
Brien said the council would have the ability to remove a mayor who was willfully disregarding duties outlined for the office in the job description the council would draft.
Dotson said she felt like the opposition, which she said had been "sprung" abruptly, was politically motivated and personal. Dotson said she had worked hard to move the city forward, and it was momentum she hoped to see continue after she no longer sat in the office.
"I guess my question is, we've had all this time to research and look, why hasn't somebody done it?" Dotson said. "Why hasn't anybody done it? We've had all this time. And it's not necessarily for me, but y'all, I don't want to see our city go backward. I've worked hard. I have busted my butt in this city, and I don't want to see it go backward because … even if I'm not the mayor in January of 2019, I don't want to see the city go backward.
"I'm not being ugly, but I know what's being sprung on me," Dotson added. "I know what's being sprung on me, and it's not just for me. Let's put politics aside. Let's put personal feelings for me aside, and let's decide this like it should be decided."
Lamb denied that there was anything personal about his resistance but said he'd been approached by constituents who did not approve of a salary increase, as well.
"A lot of people have come to me and said before you vote on this please look at it," Lamb said. "And that's my job as a city councilman."
Murray said she had only received support for the effort and said of those she'd seen respond to a call on Lamb's social media page for input had been the same. Holland, too, said he'd gotten nothing but support for the measure from his constituents.
Lamb said he'd been approached by many off of social media that spoke to the contrary, however.
No official motion to table discussion was entered; Murray moved to continue the second reading and roll call vote, with Holland providing the second.
The raise will bring the mayor's total compensation, which includes retirement, insurance and expense benefits to more than $50,000 each year. The last adjustment to the mayor's compensation came in 2010 to account for a consumer price index increase, Brien said.
In other business, the council:
Presented Dr. Paul Schaper, a local surgeon who has retired and intends to move with his wife back to Missouri to be near family, with a key to the city;
presented a letter of commendation to Benton Police Officer Ryan Moore for his action in getting Allendale Apartments residents to safety and remaining with them to assist in facilitating their needs after a fire destroyed the building last month;
adopted final water and sewer service call rate adjustments;
introduced an ordinance that would amend the property maintenance code to include that city workers would not pick up logs or debris with a diameter of greater than 6 inches;
approved a resolution that authorized the mayor to execute on grant documents related to the construction of the new pool house at H.H. Lovett Park;
declared Nov. 12-18 as Nurse Practitioner Week in Benton;
determined to observe Halloween activities in city limits on Tuesday, Oct. 31, with a curfew of 10 p.m. for those younger than 18; and
accepted labor and equipment hourly rate bids from R&R Piping Company of Benton for a total of $182.50 per hour for new water main installation and replacement in the city, for a time period expected to run about three weeks. Materials on the project were expected to come to about $55,000.
Hear the full audio account of the meeting here.