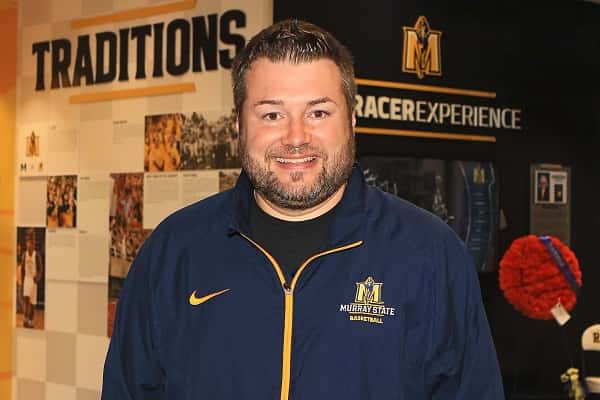 Fans of the Murray State women's basketball program will hear veteran radio broadcaster Jeremy Rose over the air and online in the 2017-18 season. Rose is all set to join Racer Radio as new head coach Rechelle Turner begins her first season at the helm of the MSU women's program.
A veteran of more than two decades of radio, Rose called the chance to do Racer games a great opportunity.
"It's a new beginning for the program and I have tons of respect for Coach Turner," said Rose who was radio announcer at Marshall County High School, while Turner Coached Murray High School over the last several seasons. "Our bond goes all the way back to Coach Howard Beth, when Rechelle was an outstanding player at Marshall. I am very familiar with the style of play she coaches."
Rose was a familiar voice in local prep sports at Marshall County through his 24 seasons of work at WCBL and WCCK radio in Benton, Kentucky. Starting his broadcast career in 1995, Rose called MCHS girls basketball from 1996 to 2017, which included nine KHSAA Sweet 16 appearances. He has also served as a play-by-play voice for Tanager Sports.
"The Good Lord has blessed me to have had the chance to be the voice of the Lady Marshals for 24 seasons and I got to experience a lot of winning," Rose said. "I never had to call a losing season and my family was with me much of the time. I'm looking forward to them being involved when I call games at Murray State. Seeing the Racers win the OVC Tournament and get to the NCAA Tournament is attainable here and I want to be a part of that."
Rose has an upbeat style of play-by-play with an emphasis on describing the great things that the home team is doing.
"If I can correctly say our kids' name and then put the spotlight on all of the good things they're doing, that's what I'm all about. I'm a fan of the Racers and this is my school."
Rose, has been with Community Financial Services Bank (CFSB) since 2003 and is Vice President and Director of Marketing.
All Murray State women's basketball games are streamed on GoRacers.com and 1340WNBS.com. The over the air signal is on 1340 AM. Some games may also air on Froggy 103.7 FM.
Rose's first game on Racer women's basketball is an exhibition game (Nov. 2) when Murray State hosts Georgetown College at 5 p.m. at the CFSB Center. It's the first part of a doubleheader that day, before the Racer men host McKendree at 7 p.m.