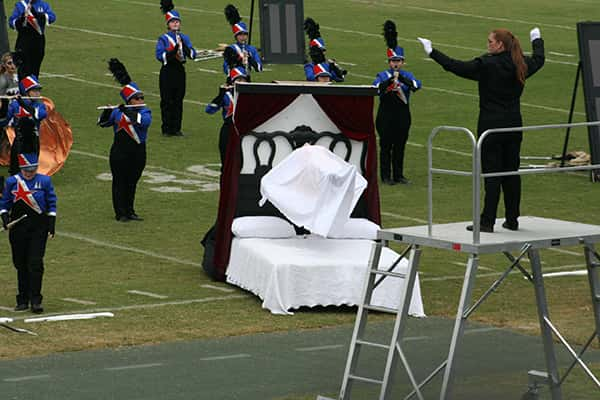 The Marshall County Marching Marshals closed out their competition season at local events with a fourth place finish out of 12 bands at the Christian County Tournament of Bands Saturday in Hopkinsville.
The Marshals finished with an overall combined score of 74.4, earning third place in class 5A and fourth overall. Class 4A competitor Hopkinsville High School won Saturday's Grand Champion award with a total combined score of 82.25. Muhlenberg County, winners in class 5A, took Reserve Grand Champion honors with a score of 76.85. The McCracken County Mustangs defeated the Marshals for the first time this season, with a combined score of 75.4, one point above the Marshals.
The Marshal color guard came in second in class 5A behind Muhlenberg County and fifth overall; percussion earned second in class 5A behind McCracken County and third overall.
Saturday's competition marked the last event at which the band will compete in the region. The group will compete one last time this season, however, at the Bands of American Super Regionals in St. Louis, Mo. The Marshals will compete as one of 66 participating bands, most of which compete on the BoA circuit. The Marshals are scheduled to perform in preliminary competition at 7 p.m. Friday, Oct. 20 at the Dome at America's Center.
For directions, lineup or ticket information, visit musicforall.org. Residents may also view the competition and performance via live stream online at flomarching.com.