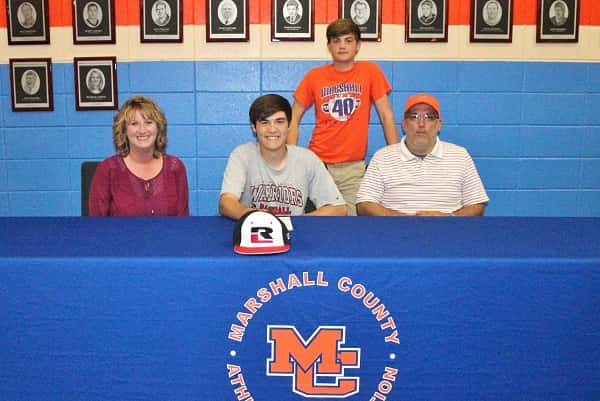 BENTON – Cameron Ives signed Thursday to continue his baseball career at Rend Lake College. A four-year member of the Marshall County baseball team, Cameron is a two-way player for the Marshals who are currently 18-8, serving as the third baseman and the closer.
"Cameron has been a great leader this year for our team", Head Coach Mike Johnson said. "He has been able to deliver on the mound as well as at the plate. Rend Lake is getting a solid player with some upside to get better and contribute immediately to their program."
Cameron has a .275 batting average, 21 RBI's and on the mound, three saves and 20 shutouts. The Marshals have secured the number one see in the 4th District Tournament.
"I'm excited about being able to play baseball at the next level", Cameron said. "Rend Lake is a good fit both academically and athletically for me. I can't wait to get started."
Gallery below of Cameron, joined by family, coaches, the baseball team and friends at his signing.