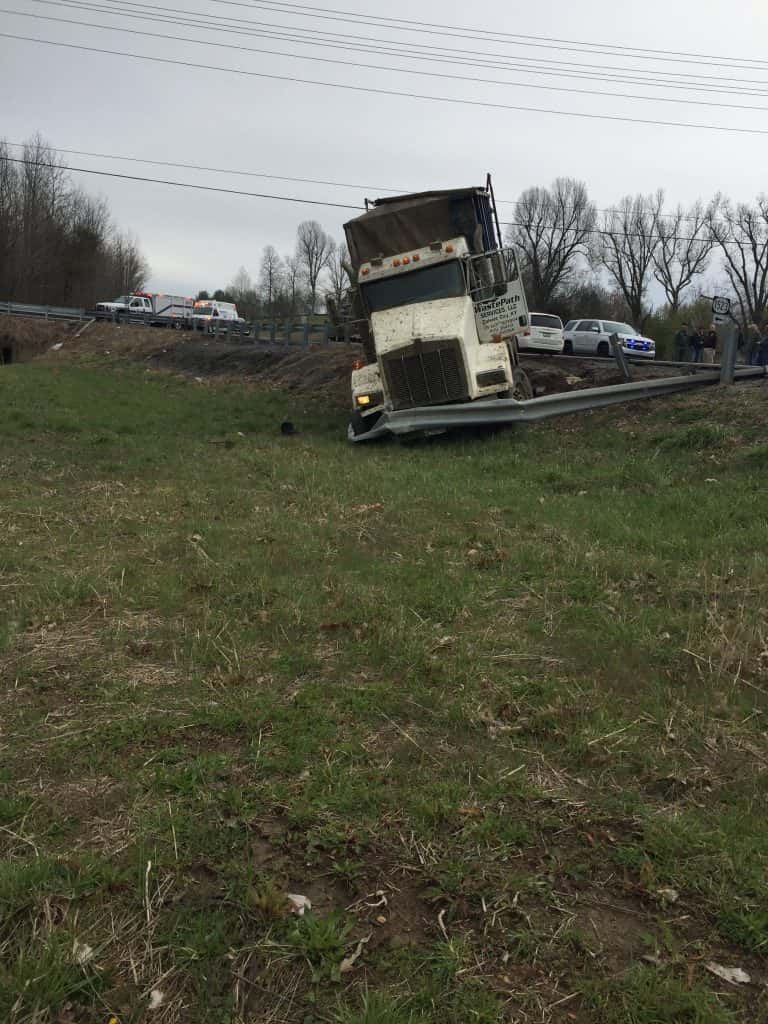 CALVERT CITY, KY (March 17, 2017) – At approximately 1:00 p.m., Kentucky State Police responded to the area of the 16 mile marker of Interstate 24 to assist McCracken County Sheriff Department in a pursuit. Prior to the initiation of the pursuit, McCracken County's Dispatch Center received multiple calls reporting a dump truck traveling the wrong way on the Interstate. Upon further investigation, multiple collisions were reported involving the dump truck at various locations in McCracken County.
Upon the arrival of Troopers near the McCracken/Marshall County line in Interstate 24, KSP took the lead in the pursuit. The pursuit continued into the city of Calvert City. The pursuit ended near the intersection of Highway 1523 and Highway 62, where the dump truck became disabled. The driver, Dalton M. Lampley, age 23, of Calvert City, Kentucky was taken into custody.
Early reports indicate approximately 10 vehicles involved in collisions with the dump truck. Numerous people were transported by ambulance to hospitals in McCracken County for various injuries, some believed to be life-threatening.
Mr. Lampley was transported to Marshall County Hospital for treatment of non-life threatening injuries. Upon his release from the Hospital, Lampley was lodged in the Marshall County Jail for multiple charges including 1st Degree Fleeing or Evading Police, 1st Degree Wanton Endangerment of a Police Officer, 1st Offense Driving Under the Influence, 1st Degree Possession of a Controlled Substance (Meth), Possession of Drug Paraphernalia, and Resisting Arrest.
Assisting KSP during the pursuit and investigation were McCracken County Sheriff Department, Marshall County Sheriff Department, Calvert City Police Department, Paducah Police Department, and Marshall County Ambulance Service.
The investigation is continuing by Trooper Donald Bowman and Paducah Police Department. Anyone with information is asked to contact the Kentucky State Police Post 1 at 270-856-3721 or anonymously at 1-800-222-5555. Citizens may also report tips anonymously through the KSP app. The app is available for iPhone, iPad and Android applications and can be easily downloaded free of charge through Apple and Google Play stores.