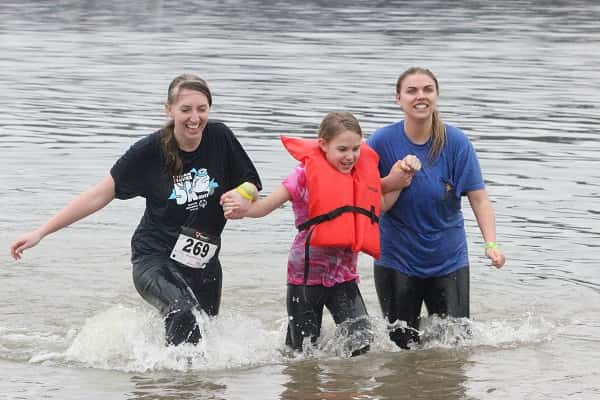 GILBERTSVILLE – UPDATE: Total raised is now $87,000 and climbing according to organizers.
The Western Kentucky Polar Plunge marked its seventh year Saturday at Kentucky Dam Village State Resort Park raising an estimated $63,535.24 for Special Olympics with additional money expected over the next week or so.
The top fundraiser was Chuck Williams of Murray/Calloway County, raising $5,815. Second place went to William Evans with Local 6 PE-Icers raising $1,865 and third place went to Jeff Stewart with Murray/Calloway County Special Olympics bringing in $1,405.
The top Too Chicken fundraiser was Amanda Ashlock with Murray Independent Ice Breakers, raising $1,519. Top Special Olympic Athlete fundraiser was Madisyn Garland with the Laker Lifesavers/Calloway County Unify team raising $3,609.
Largest Corporate/Community/Civic Team was the Murray/Calloway County Special Olympics with 18 people who raised $11,881.29. The Marshall County Special Olympic team was close behind, raising $10, 979.
Law Enforcement top team fundraisers were the Kentucky State Pen team of seven plungers who raised $972 and the top Fraternity/Sorority team was the Laker Lifesavers/Calloway County Project Unity with 15 members raising $5,863.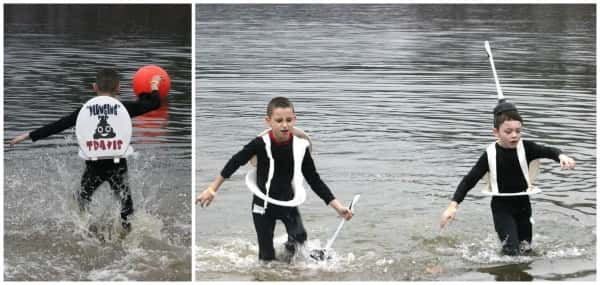 Individual costume contest winner was Travis Helton from Marshall County and the group costume contest winners were Kash Heath and Kasen Lewzader of Marshall County who were "Plunging for Travis".
The Polar 5K began at 9:00, opening ceremony and costume costest at 10:45 followed by the Polar Plunge at 11:30 with a new addition this year, the Polar Plunge Triple Crown, which includes all three events – the 5K, plunge off the dock and shore run into the lake.
Click on photos below to view the gallery.